'Sincere' Adele Supporting Families At The Grenfell Fire Proves She's The Most Humble Superstar Around
15 June 2017, 14:54 | Updated: 15 June 2017, 15:07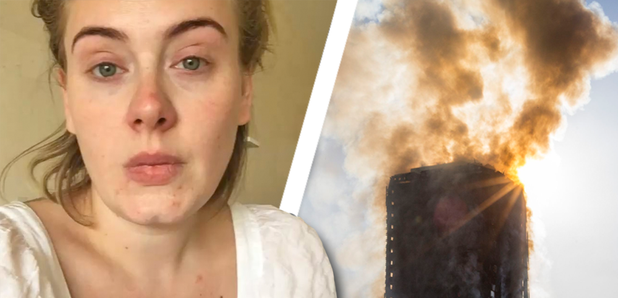 Other stars have also been hugely supportive after the tragic incident this week.
Following the tragic events which began on Tuesday night in West London, pictures have been broadcast around the world showing the horrific fire which has sadly claimed the lives of so many people and devastated the lives of many more.
The support that people have shown for the victims of the fire has been remarkable and support centres have been inundated with clothing, food and more to help look after those who lost everything.
36 AMAZINGLY Nice Things Celebs Have Done For Their Fans And Others
One person who visited the scene of the disaster was Adele and she has been praised by many people on Twitter for not only the humility she showed at the scene but also the fact she didn't seek any publicity whilst she was there.
Adele near the #Grenfell Tower in an Abaya. Respect to you. pic.twitter.com/7GAb1Dpels

— FourMe (@FourMee) June 14, 2017
One Twitter user who spotted the 'Hello' singer at the scene of the fire managed to grab the picture above and revealed that Adele was asking anyone if they needed any help...
Asking if anyone needed help. Bless her

— FourMe (@FourMee) June 14, 2017
Fans were quick to sing the praises of the Londoner and were touched by how much compassion she'd shown by visiting the scene...
I love @Adele . She is proper. She actually went to west London to show support for families of #GrenfellTower . Such humility

— Martin Samuda (@MartinSamuda) June 15, 2017
The fact Adele went to Grenfell Tower to try & help & didn't make any fuss or court any publicity around it shows how down to earth she is

— NIC82 (@nicholls_zara) June 15, 2017
The fact that Adele has gone to Grenfell tower and not said a word about it just proves how amazingly sincere she is.

— (@theonewithelly) June 15, 2017
But Adele wasn't the only celebrity to help out in the aftermath of the disaster. Chef Jamie Oliver opened his restaurant 'Jamie's Italian' up to families affected by the disaster and offered them free food and water. The restaurant is situated at Westfield Shopping Centre, just around the corner from the Grenfell site.
West Londoner Rita Ora was also spotted sorting through clothing bags for families affected by the disaster, whilst TOWIE star Tommy Mallett also visited the site to bring numerous boxes of clothes for people who had lost everything in the fire...
The emergency services and many volunteers have been bravely working tirelessly around the clock to support everyone affected by the disaster and the effort to help those people will be ongoing for a while yet.
Just to continue our Adele love, remind yourselves of that time she got scared on stage by a wild bat!