Adele To Perform At Friends Actress Jennifer Aniston's Wedding?
6 March 2013, 08:14
The 'Rolling In The Deep' star was apparently asked when the pair met at last month's Oscars.
Adele is apparently being lined up to perform at former Friends star Jennifer Aniston's upcoming wedding.
The 'Someone Like You' singer was pictured meeting the Hollywood star at the Oscars 2013 last month, and the pair's conversation at the event reportedly turned to the actress' big day.
"Adele absolutely adores Jen," an insider source told Look. "Jen mentioned to her that the [wedding] would be around her and Justin's anniversary in May.

"She told Adele she should come along, and that she'd be honoured if she'd sing at the reception. I'm sure Adele was really flattered and said she'd think about it."
Jennifer announced her engagement to boyfriend Justin Theroux at the end of 2012, with rumours the pair will tie the knot in Hawaii.

The source added that Adele also lent some parenting tips with the Marley And Me star looking to start a family of her own in the future.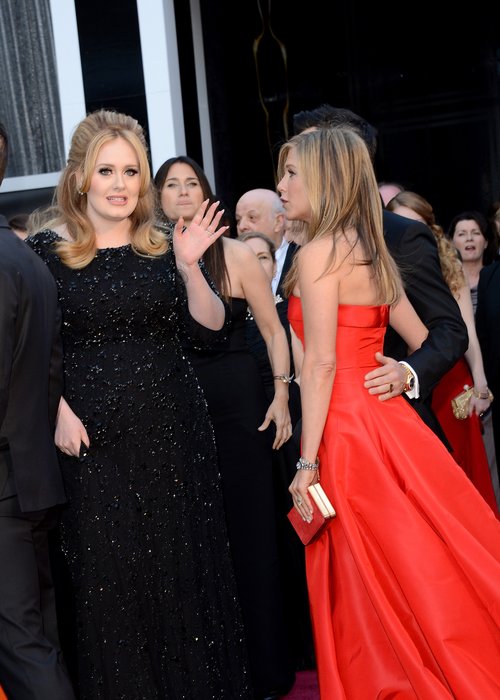 "Adele is such a proud mum," the insider added. "Jen's been quite open in the past about being broody and wanted to hear all the details of how the first four months have been for her friend.

"Adele admitted that it's exhausting, but she says it's totally worth it."
Meanwhile, Adele flew back to the UK this weekend and uploaded a picture of her Academy Award for Best Original Song as well as a Best Son prize for her first child.