Adele Invited A Drag Doppelgänger Up On Stage To Sing "Rumour Has It" & Her Reaction Is EVERYTHING
1 March 2017, 14:14 | Updated: 1 March 2017, 14:19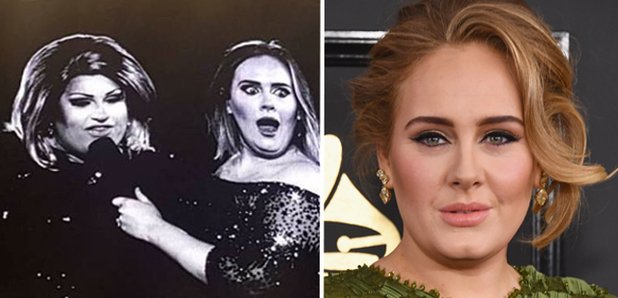 OMG.
Majority of people would give their left arm to get up on stage to perform with Adele and it seems that the lady herself is making it her mission to make that possible for as many as possible.
During her tour, she's already had several hilarious moments and included as many people in her shows as possible.

For one die-hard Adele fan, drag performer DJ Feminem, her dream became a reality when she was pulled up on stage during Adele's first Australia show.
Talking about the moment, Feminem revealed that "some guy from the crew grabbed my hand and lead me onto the stage" before she was greeted by Adele herself infront of 60,000 fans.
She went on to explain that "I kind of caught her eye in the first 15 minutes of the show and she gave me a bit of a wink and a wave and I was just having fun. And then when she came further and was walking down the catwalk, she circled the stage, she stopped and she said 'I want to meet you'. And security did the rest".
When she arrived on stage though, Adele wasn't happy. "Why didn't you tell me I had such a sweaty face?! You look better than I do… we can't have that!", she joked when the pair went to take a selfie.
Feminem also had the chance to belt out a couple of lines from Adele's 'Rumour Has It' and Adele's reaction is quite possibly the best thing ever.
You May Also Like...