5 Seconds Of Summer Fulfil Our 'Teenage Dream' With Katy Perry Cover At The #CapitalSTB
21 June 2014, 18:17 | Updated: 22 June 2014, 13:00
Our favourite Aussie exports since Kylie Minogue tore up Wembley Stadium with pure rocky greatness for the #5SOSFam at the Summertime Ball.
5 Seconds of Summer got one of the loudest screams from the crowd when they were introduced ahead of their debut Summertime Ball performance, and the boys with a number one under their belt certainly lived up to the hype... even including a cover of Katy Perry's 'Teenage Dream' in their set!
There are going to be a lot of sore throats tomorrow if the screams in Wembley Stadium were anything to go by - Ashton told the crowd "make some noise on the floor, Wembley. SCREAM!" and you guys went wild. You #5SOSFam are a crazy bunch - we spotted a lot of banana costumes despite the heatwave!
Luke, Michael, Calum & Ashton added some rocky flavour to the #CapitalSTB with their number one hit, 'She Looks So Perfect' - sadly they weren't only wearing their 'American Apparel underwear' to perform. Now THAT would be a show!
5SOS had clearly perfected their rock star in-sync jump before the big day! Loving your work guys... (Credit: Danny North):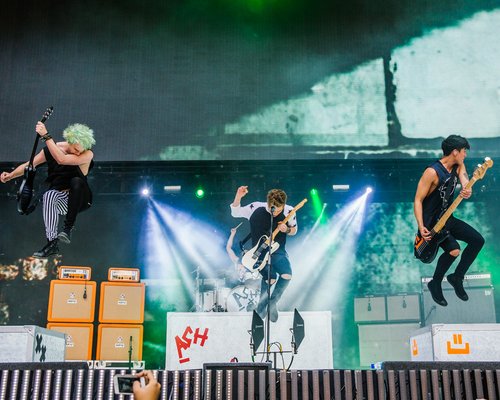 "It's a great sunny day so we're gonna play a few songs for you guys!" 5SOS shouted out to the crowd. "It's amazing to be here, we're from Australia so this is a little bit exciting for us."
Ashton Irwin had his own name on his drum kit, and looked INSANELY hot in his signature bandana with his delicious arms out in a cut off T-shirt. We won't judge you if you were drooling over hims and the rest of the band.
5SOS WERE JUST THE BEST THIG EVER OMFG THEY ROCKED THE STAGE! @5sos @CapitalOfficial #5sosstb #CapitalSTB

— Hollie (@CalumsSnapbxck) June 21, 2014
This picture I just took of 5 Seconds of summer is pretty cool. It was a happy accident! #CapitalSTB pic.twitter.com/yd16eSUzqI

— Daz Gale (@dazgale) June 21, 2014
80,000 people were bouncing in unison to their second single, 'Don't Stop', and the boys definitely fulfilled all our 'Teenage Dreams' with their incredible Katy Perry cover. Oh, and Michael Clifford was also rocking some pretty Katy Perry-esque green hair - rock and roll!
This ladies and gentlemen is "Blue steel" pic.twitter.com/V3QkmgfmOD

— Ashton Irwin (@Ashton5SOS) June 21, 2014
5 Seconds of Summer's Set List was:
'Don't Stop'
'Teenage Dream'
'She Looks So Perfect'
The lovely 5SOS boys were really excited for their first Summertime Ball performance, and tweeted before the show:
BACK AT WEMBLEY BABY! it's really sunny lol, mornin London xx pic.twitter.com/3jVjxYIgDa

— 5 Seconds of Summer (@5SOS) June 21, 2014
ALRIGHT! @Ashton5SOS @Luke5SOS x pic.twitter.com/XBQvFU4CYN

— 5 Seconds of Summer (@5SOS) June 21, 2014
A S H xx pic.twitter.com/n0O5Pmh1Jw

— 5 Seconds of Summer (@5SOS) June 21, 2014
The #5SOSFam were super excited to catch the boys set - many of you turned up in banana costumes despite the sweltering heat, that's dedication for you!:
@5SOS @Ashton5SOS @Luke5SOS DAAAAUYYYYYUUUUUUMMMMM

— мαddу/ PLZ 5SOS (@LukesJamLips) June 21, 2014
@5SOS yayyyy!! You're in the uk hope you have fun doing capital summertime ball

— Chloe | Plz 5SOS (@Cmmcd99) June 21, 2014
@5SOS wish I was there today, have fun guys ! Xxx

— abby (@LouisIsFab) June 21, 2014
Fancy seeing the 5SOS boys getting to know British superstars (and fellow #CapitalSTB performers) The Vamps? Oh... go on then!