5 Seconds Of Summer Announce They Are All Single "And Ready To Mingle"
26 March 2014, 08:23 | Updated: 26 March 2014, 08:25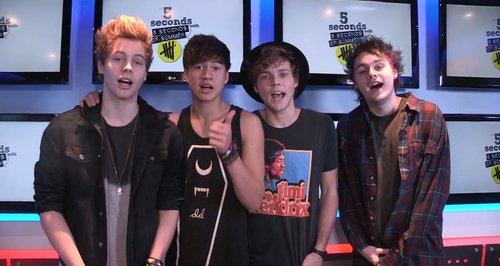 The 'She Looks So Perfect' band also reveal whether they would ever date one of their fans.
5 Seconds Of Summer have declared that they are all single and "ready to mingle", as well as admitting that they would never rule out dating a fan.
The Australian band, who hit number one on the Vodafone Big Top 40 this past Sunday with 'She Looks So Perfect', have opened up about their love life.
"We are all single and ready to mingle and eat Pringles," Luke Hemmings revealed to The Metro this week. "I love the British accent, so I'd go there.
"I'd definitely date a fan, it would be like dating someone who likes your music," bandmate Michael Clifford added.
Luke, Michael and bandmates Calum Hood and Ashton Irwin also opened up about the possibility of one day finding fans hiding in their hotel rooms on their global travels.
"We're heard stories from other people about them going into their hotel showers and a fan is already in there," Michael added. "But that hasn't happened. I reckon that could be funny actually."