"It's More Emotional": 5 Seconds Of Summer On Their New Album 'Sounds Good Feels Good'
19 August 2015, 09:46
Sounds Good Feels Good...!
01:10
After the HUGE success of their debut album, the 5SOS lads are back with their brand new offering - and the pre-orders have already sent them to number 1!
5 Seconds Of Summer are officially BACK! The boys have announced their second album, 'Sounds Good Feels Good' as well as the track listing and artwork - and it shot straight to number one in 40 territories on pre-orders!
Following on from the HUGE global success of their debut self-titled offering, Ashton Irwin, Calum Hood, Michael Clifford and Luke Hemmings have been hard at work on their new music.
The boys debuted their new single 'She's Kinda Hot' three weeks ago, with the music video gaining over 5million views in 10 days – it looks like the lads might be on to another winner.
The boys revealed what we can expect from the record, and they're going seriously DEEP! Ashton Irwin revealed, "'Sounds Good Feels Good' is not the same as the last album at all. It's very personal to us. The writing is a lot more emotional and explores different subjects that we haven't written about before.
"It really connects with us emotionally. We talk about childhood, we even touch on parents' divorce and stuff like that as well. We touch on love, heartbreak, loneliness, depression, anxiety - all types of stuff."
Just 24 hours after announcing their second album, it had gone to number 1 in 40 countries - and 5 Seconds Of Summer are the number one global act on iTunes worldwide too!
Their second album will be released worldwide on 23rd October, and the boys have also revealed the full track listing, including 'Permanent Vacation' which the boys debuted on their tour.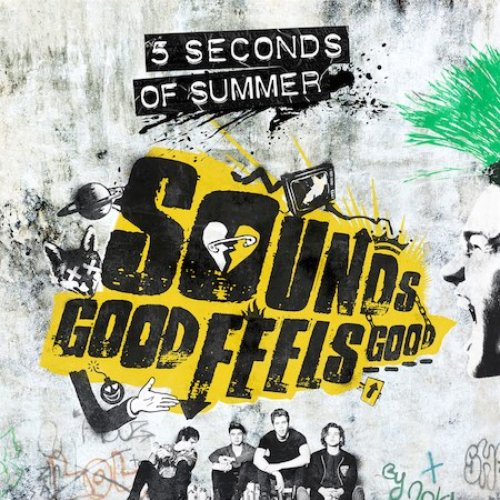 5SOS have enlisted John Feldmann once again to executively produce this album and Ashton said of the record, "We put all our heart and soul into 'Sounds Good Feels Good', I've never been more proud of anything in my life…it's for you!"
The boys spent three months living together in a studio in LA to write and record 'Sounds Good Feels Good' in the midst of performing sold out shows all across the world on their 'Rock Out With Your Socks Out' tour.
'Sounds Good Feels Good' will be available to pre-order on Friday 14th August, and anyone who pre-orders the album will receive their new track 'Fly Away' as an instant download.
The track listing for the standard edition is:
'Money'
'She's Kinda Hot'
'Hey Everybody!'
'Permanent Vacation'
'Jet Black Heart'
'Catch Fire'
'Waste The Night'
'Vapor'
'Castaway'
'Fly Away'
'Invisible'
'Airplanes'
'San Francisco'
'Outer Space / Carry On'
The Deluxe CD will feature:
'Money'
'She's Kinda Hot'
'Hey Everybody!'
'Permanent Vacation'
'Jet Black Heart'
'Catch Fire'
'Safety Pin'
'Waste The Night'
'Vapor'
'Castaway'
'Girl Who Cried Wolf'
'Broken Home'
'Fly Away'
'Invisible'
'Airplanes'
'San Francisco'
'Outer Space / Carry On'