5 Seconds Of Summer Tease New Album: "We've Got 30 Songs Already"
26 March 2014, 11:25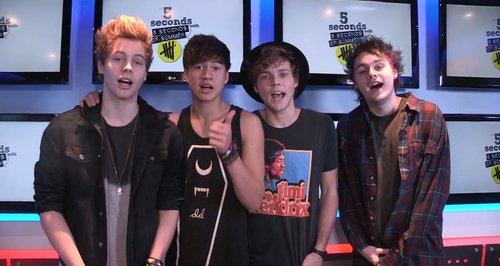 The 'She Looks So Perfect' stars give fans some hints about what to expect from their record.
5 Seconds Of Summer have given fans a big update on their upcoming debut album and say they have around 30 songs that could make the cut for the final track list.
The Australian boy band scored their first Vodafone Big Top 40 number one with 'She Looks So Perfect' on Sunday last weekend (23rd March), and say they have songs written with the likes of McFly and Scouting For Girls all potentially ready for their album.
"We lived here for six months when we first started writing our album,' Luke Hemmings told the Daily Star. "We wrote with loads of UK people like Roy Stride from Scouting For Girls and a track called 'Take It Away' with the boys from McFly.
"Because nothing's been release yet we're not sure what is going to make the album," Calum teased. "It's crazy, we've got at least 30 songs we all really love and I like them too much to give them away to anybody else.
"Some will be B-sides but we all have personal favourites so it's going to be a struggle," he added.
5 Seconds Of Summer opened up about their love lives this week where they declared that they are all "single and ready to mingle".