5SOS Talk About THOSE Kendall Jenner Rumours And Being Starstruck At The VMAs!
5 September 2014, 15:32 | Updated: 5 September 2014, 16:23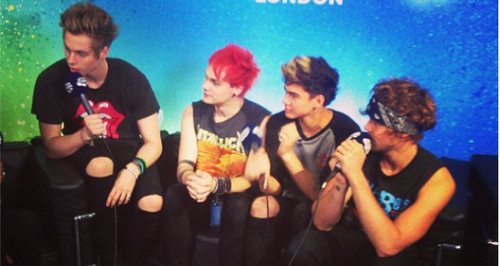 When 5 Seconds of Summer talked to Capital backstage at the iTunes Festival, they spilt a LOT of secrets…
When we caught up with 5 Seconds of Summer backstage at the iTunes festival last night (4th September) they were ready to spill a LOT of secrets.
As well as revealing that even a Lemon and Herb dressing is to hot for Ashton Irwin at Nando's (wimp!) Max also quizzed the boys on THOSE Kendall Jenner rumours…
5SOS reveal their chat-up lines...
Rumours started circulating that Ashton was dating Kendall Jenner after the pair were spotted getting into a taxi together after a night out in August, but what is actually going on between the pair of them?
Ashton revealed, "We just hung out. It was just a cool thing, it's nice to make friends and stuff, you know?"
We'll take that as a no for now then!
5SOS on their VMAs experience...
The boys also revealed that they got a little star struck at the MTV VMAs recently – pop stars can be fan boys too, you know!
Ashton revealed, "We were sitting there and people kept walking past, Chris Brown just walked past and Calum freaked out."
We don't blame you, boys!
You May Also Like…