5SOS Just 'Don't Stop' – They May Be Hitting Cinemas Near You Soon!
18 June 2014, 11:09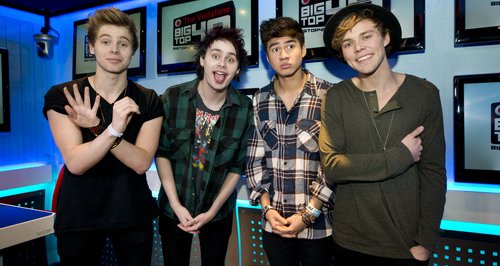 5 Seconds of Summer are tipped to be the latest pop stars to be hitting the big screen – next stop, world domination!
5 Seconds of Summer are fast becoming the hardest working superheroes in pop – hot on the heels of their pals, One Direction, they are in talks about having their own movie!
The 5SOS lads aren't shy in front of the camera if their latest video is anything to go by – the band dressed up as unlikely superheroes for their 'Don't Stop' music video.
Luke Hemmings told the Daily Star, "We'd love to make a film. To be honest we shot so much in those two days making our vid we could've made a feature film out of it already."
They can definitely hit up the 1D boys if they need any tips – One Direction are also filming for their next documentary – and 5 Seconds of Summer have been supporting the boys on tour.
A source close to 5SOS commented after a recent gig at Wembley Stadium, "It's only a matter of time before the band end up in cinemas as they are already huge on a global scale. I can see a 5 Seconds movie having more of a narrative like The Beatles films."
No pressure then, lads, what with supporting the world's biggest boyband of today and being compared to the hugest band from the past century…
And it looks like they may stick to the superhero theme from 'Don't Stop' – Michael Clifford said, "I would've happily spent every day in those suits, except when you need to pee, that's really hard. The costumes will come out on tour, you will never get rid of those super heroes because it was too much fun."
While they are on course for world domination – their first single, 'She Looks So Perfect' went straight in at number one – the boys know they have to keep working hard to stay in the top spot.
Luke said, "I hope for another number one but we don't want to get too excited. Number one never gets boring, it's such a big thing. I still wake up thinking about the first one, I don't know what I would do if it happened again."
5 Seconds of Summer – who may or may not be in their superhero costumes – will be performing at the Capital Summertime Ball on Saturday 21st June.
The Countdown To The #CapitalSTB Is ON!
You may also like...