5 Seconds Of Summer: The 'She Looks So Perfect' Singers 12 MUST-SEE GIFs'
9 April 2014, 12:31 | Updated: 9 April 2014, 12:33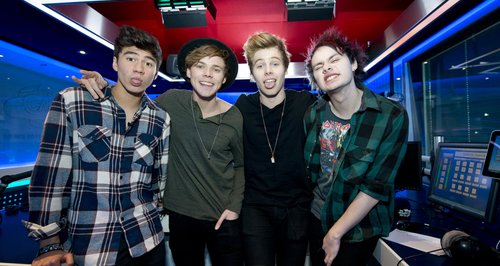 Feast your eyes on some looping wonderful moments from Ashton, Luke, Calum and Michael.
They're one of 2014's biggest acts and show no signs of stopping any-time soon. 5 Seconds Of Summer tore through the pop world with their HUUUUUUGE single 'She Looks So Perfect' - which scored them a debut No.1 on the Vodafone Big Top 40.
We thought it would be the perfect time to celebrate all things Ashton, Calum, Michael and Luke by taking a look at some of the web's best GIFs of the Australian stars.
Check out our favs and tell us yours below.
1. When Luke gave a cheeky wink to Calum in the #SLSP video
(Picture: Tumblr/FiveCarrots)
2. When Ashton played a little sing-a-long game... and was LOVIN' it!
(Pictures: Tumblr/MileyCyrs)
3. The fan who made this - take a bow!
(Picture: Tumblr/LivingLike5SOS)
4. And This one...
(Picture: Tumblr/LarryStep)
5. How about some OLD school posing
(Picture: Tumblr/BarbaraGucc)
6. This close-up of Michael is Clifford-tastic!
(Picture: Tumblr/Sabine007)
7. Michael's casual guitar playing is also pretty darn cool...
(Picture: Tumblr/OursInTheFury)
8. Holding this pose for their Capital FM Face-To-Face interview - pros!
9. Did someone order A Harry Styles and Ashton Irwin dance GIF?
(Picture: OurBoyzTheIrGirlz)
10. #Skillz - sort of!
11. Luke OWNING the rocket-ship style theme park ride
(Picture: Tumblr/LukeyyBear)
12. AND...... THESE.....
(Pictures: Tumblr: SherlcockBowtie)
You may also like...
> Control 5 Seconds Of Summer