"Never Trust Stray Cats": 14 Of 5SOS's Ashton Irwin's Most Random Vines
2 August 2014, 07:00 | Updated: 27 August 2014, 15:16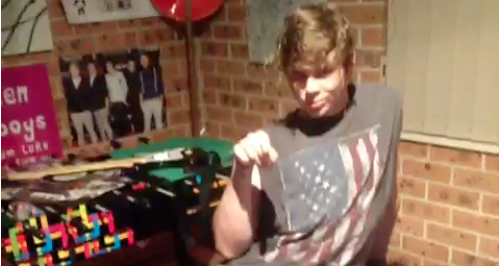 From rainbows to nipples - Ashton Irwin's most random moments in the form of Vine.
Only a purple spotted unicorn could possibly be more random than 5 Seconds of Summer's Ashton Irwin.
The fittest drummer ever (probably) also has the laugh of a schoolgirl and more hip wiggle than Shakira and Rihanna rolled into one.
We took on the laborious task of looking through thousands of six-second videos of Ashton's lovely, lovely face to bring you his most random Vines. Well, someone HAD to do it!
1. He flipping LOVES rainbows
Seriously, has any other human being ever got this much unadulterated JOY out of a rainbow before? We don't think so.
2. When he ROFLS, he REALLY ROFLs!
Is there anything better than a man fully committed to a good old ROFL? We'd LOVE to see what he does for a LMAO...
3. He's a sass-master!
Oooh yeah honey, you've got that model walk DOWN!
4. He's understandably wary of stray cats
This isn't random, this is just good sense.
5. Chocolate Milk Parties are a totally normal thing
We like chocolate milk, and we also like Ashton. We can totally get on board with all of this.
6. Sitting is the new standing up
Who needs exercise, eh? We'll come and sit with you if you like?
7. Er, they're not meant to be llamas…
The classic 'rock hands' have been given an all-new make-over…
8. Visiting Ashton's bedroom would probably go something like this…
You'd still be in his actual bedroom though, so we'd chalk that up as a MASSIVE win.
9. Ash's nipples tend to escape his clothes sometimes
WARNING: This does contain a very rude word, but we like to think his nip nips make up for the potty mouth. In any case, we LOVE the fact his clothes don't cover much of his bod.
10. He's an excellent dancer - WITH ADDED HARRY STYLES
We love his funky moves, and the added Hazza definitely doesn't hurt! Two of the hottest pop stars IN THE WORLD in one clip? Yeah baby.
11. Seriously, you can NOT stop this boy from dancing
There's definitely something hypnotic about this hip action…
12. He can literally laugh on cue…
…and his laugh sounds like a little elf hyped up on sugar. Adorbs.
13. He's mastered that Italian language…
Yeah… he might need to re-listen to those Rosetta Stone CDs, actually… Nice hat though!
14. The hosts of 'Pimp My Ride' probably don't have anything to worry about…
We love your enthusiasm for the lights…