5 Seconds Of Summer Reveal Handwritten Lyrics For 'Amnesia' – And The Internet Explodes!
24 June 2014, 17:04 | Updated: 24 June 2014, 17:06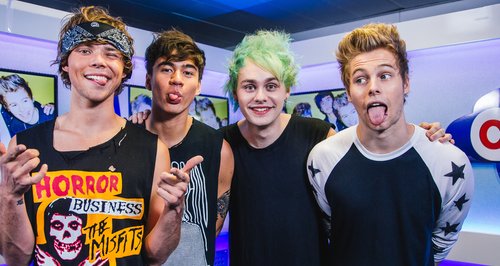 Fans of 5SOS on Twitter CANNOT COPE ss the boys Instagram a snap of the handwritten lyrics for a new song
Diehard members of the #5SOSFam will be familiar with their forthcoming song 'Amnesia' – the boys have performed the track live several times – but Twitter still pretty much exploded when the boys Instagrammed a photo of the lyrics today.
The track is the only song from their upcoming album that the boys haven't written themselves, but is one of the most sentimental for the band.
They wrote, "This is the only track we haven't written on the album. It's a standout for us because it was so incredible to write with the Madden Brothers in the past, and they had this song they wrote a while ago but couldn't find anyone it suited… The song has so much meaning.
"It's one of those songs that's really heartfelt on the album, and it's really special to us as a band." #5sosAmnesia #FinallyA5sosAlbum." N'aww boys!
But the best thing about a potential new release from our favourite Aussie hotties? YOUR reactions on Twitter which included:
I was singing Amnesia and my friend goes to me "why would you want to wake up with Amnesia" I just gave her a really long stare #5sosAmnesia

— Lucy (@HEARTMUKE) June 24, 2014
Guess who's crying bc of amnesia #5sosAmnesia pic.twitter.com/lqIa6dKgT6

— kaitlyn (@NETFLlXLUKE) June 24, 2014
Me after I heard amnesia for the first time #5sosAmnesia pic.twitter.com/u3UfJwC51U

— Rylee (@lovelukeslegs) June 24, 2014
Me when I listen to Amnesia... #5sosAmnesia pic.twitter.com/3JrCxEMjDe

— Aracely (@_xLastHope_) June 24, 2014
Me while listening to Amnesia #5SOSAmnesia pic.twitter.com/ZbjwlaTk8t

— H (@drivenhood) June 23, 2014
Amnesia got me like !! #5SOSAmnesia #5SOSAmnesiaFollowparty pic.twitter.com/oMt3x7zKRY

— Michael Clifford (@H_Tunez) June 23, 2014