Toy Appeal by St David's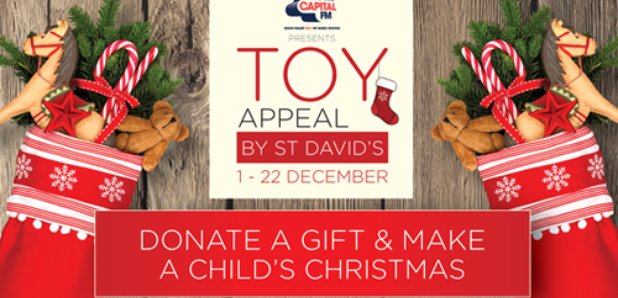 Capital is launching South Wales' biggest toy appeal with St David's Cardiff.
Donate a gift now and you could help change young lives this Christmas plus get yourself one of thousands of thankyou prizes!
Just find the Capital Street Stars at St David's from the 1st – 22nd December and we'll make sure they get to the most deserving kids across South Wales!

Christmas is a magical time for children. The excitement of seeing what Santa's delivered, frantically unwrapping gifts and playing with toys all day long is a common scene in many households, but not all children have this luxury.
This Christmas, St David's Cardiff and Capital have got together to ensure that every child in South Wales receives a Christmas gift this year.
The St David's Toy Appeal, which runs from the 1st – 22nd December, will be supporting six key charities across Cardiff, Newport, Bridgend and the South Wales Valleys, including:
Sparkle
Ty Hafan
Llamau
George Thomas Hospice
Home-Start
Valleys Kids
We are asking you to buy an extra gift this Christmas for a child that could really benefit from the donation.
Capital will set up a Donation Station from the 1st – 22nd December near Crouch and Clogau on the lower level. This is where you will receive a candy cane with an exclusive Hamleys voucher to help you purchase the perfect gift for a special child. Once you've bought a gift, just drop it off at the Donation Station and we'll make sure it's delivered safely.
Donate your gift and receive a Christmas Cracker from the Street Stars to see if you will win one of thousands of thankyou prizes including:
Krispy Kreme Original Glazed Doughnuts
Cardiff City Home League Fixture Adult plus Child U16 ticket for Jan 2016 only
Shake Shack Frozen Custard
£5 St David's Gift Cards
Free 1 day in Jan St David's Parking Ticket
Treetop Adventure Golf Free Game
Need some inspiration? Then take a look at some of our top tips for presents to donate, click here >
THE TOY APPEAL WILL ONLY ACCEPT NEWLY PURCHASED PRODUCTS WHICH ARE SEALED OR WITH LABELS STILL ATTACHED - THANK YOU
| | |
| --- | --- |
| Date | Activity Times |
| 01.12.2015 | 11:00am - 19:00pm |
| 02.12.2015 | 11:00am - 19:00pm |
| 03.12.2015 | 11:00am - 19:00pm |
| 04.12.2015 | 11:00am - 19:00pm |
| 05.12.2015 | 11:00am - 19:00pm |
| 06.12.2015 | 11:00am - 17:00pm |
| 07.12.2015 | 11:00am - 19:00pm |
| 08.12.2015 | 11:00am - 19:00pm |
| 09.12.2015 | 11:00am - 19:00pm |
| 10.12.2015 | 11:00am - 20:00pm |
| 11.12.2015 | 11:00am - 20:00pm |
| 12.12.2015 | 11:00am - 19:00pm |
| 13.12.2015 | 11:00am - 17:00pm |
| 14.12.2015 | 11:00am - 20:00pm |
| 15.12.2015 | 11:00am - 20:00pm |
| 16.12.2015 | 11:00am - 20:00pm |
| 17.12.2015 | 11:00am - 20:00pm |
| 18.12.2015 | 11:00am - 20:00pm |
| 19.12.2015 | 11:00am - 19:00pm |
| 20.12.2015 | 11:00am - 17:00pm |
| 21.12.2015 | 11:00am - 21:00pm |
| 22.12.2015 | 11:00am - 21:00pm |
Click here to see full terms and conditions >