Katie Price Reveals Her Secret Intimate History With New Big Brother Hunk Lotan Carter
6 June 2017, 10:49 | Updated: 4 December 2017, 11:10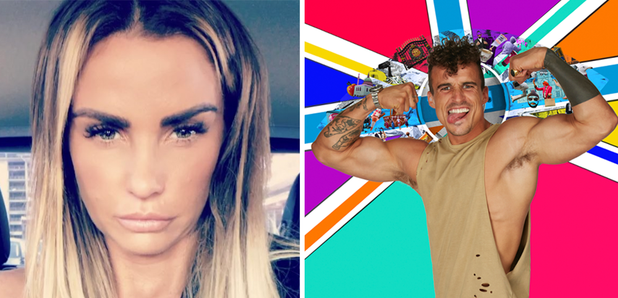 "Am I allowed to tell the gossip? I'll keep it clean!"
When the new Big Brother housemates entered the famous abode last night, we knew that some of them were bound to be holding onto some secrets and it hasn't taken long for one of them to come out.
Lotan Carter, the28 year old Essex hunk and member of the dance group Dreamboys not only has a famous uncle in the shape of Pineapple Dance legend Louie Spence, but also has a bit of a past with Katie Price.
There's A Hidden Skull Theme In This Year's Big Brother House & Almost No One Spotted It
Katie was appearing on Big Brother's Bit On The Side when she spilled the beans and even though host Rylan Clark-Neal tried to keep her from revealing too many details, she wouldn't be silenced.
In the earlier launch show, Lotan had bragged that he'd insured his 'manhood' for £12 million and Rylan couldn't help but ask BBBOTS guest Eamonn Holmes whether he thought that was worth it. Before Eamonn could even utter a word, Katie shouted out, "I've seen it! I've seen it! Am I allowed to tell the gossip? I'll keep it clean!"
Errr yes Katie. Yes you are and please do, because we need to know this goss right now!
Well after she was silenced, Katie decided to heckle Rylan later on as he was interviewiing one of Lotan's friends who said, "He's a good lad. If Katie Price has seen your penis there's definitely something about ya. He's a good lad, a good sport and all round nice lad really."
Katie couldn't resist and yelled, "He likes vagina!", before later claiming, "I've done nothing with Lotan!"
In an interview with Now Magazine which has since been uneartherd, Lota revealed more about his relationship with Katie, explaining, "I had to strip for Katie at her hen party to Alex Reid. I got told she didn't like me because a selfie I had taken with her got leaked to the papers, but then she added me on Facebook, a year later so it's all water under the bridge."
Well with Lotan now securely locked up in the Big Brother house for the forseeable future, we're sure this isn't the last we'll hear about his past with the country's most famous glamour model.
Remember the last series of Celebrity Big Brother when Jamie O'Hara and Nicola McLean were accused of being a bit 'over-familiar' in the garden?