"Come 2 Daddy!" - Check Out Our 26 FAVE Tweets From The #CapitalJBB This Year!
9 December 2015, 15:33 | Updated: 4 December 2017, 11:10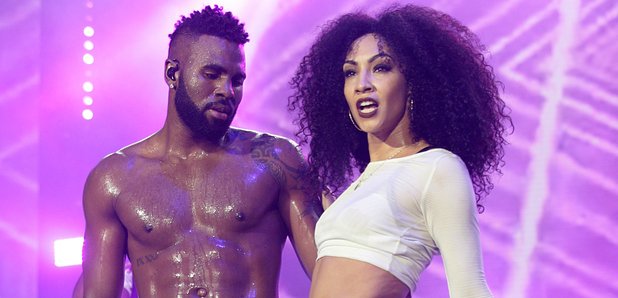 Relive the INCREDIBLE weekend of this year's #CapitalJBB.. through our 26 FAVE tweets!
The Capital Jingle Bell Ball With Coca-Cola is over for another year and it's safe to say our 20 line-up stars blew you ALL away with their incredible performances... but it was on Twitter that their impact REALLY came through!
From hilarious tweets about the stars to gushing emotion from super-fans - and even tweets from the artists themselves - check out the 26 tweets the DEFINE the #CapitalJBB 2015.
When Jason Derulo got into a 'Talk Dirty' frame of mind on Twitter and we let him off with it...
Come 2 daddy.. Yea u pic.twitter.com/upD518BVFo

— Jason Derulo (@jasonderulo) December 8, 2015
Because let's face it... he was looking hella hot. And this lady in the front row TOTES agrees with us
@jasonderulo @CapitalOfficial woman on the front row has an expression that says it all! pic.twitter.com/1MWOSCB0XL

— Lois (@lil_miss_lois) December 5, 2015
The Twitter world completely lost their cool when they clocked eyes on The Vamps singer Brad's KILLER smile...
@CapitalOfficial @TheVampsBrad @katshoob HIS SMILE IS SO BEAUTIFUL!!!!!!

— Davina (@DavinaPotter4) December 6, 2015
And it sounds like YouTube stars Lucy and Lydia were LOVING a bit of The Vamps watching them at the weekend!
Last Night YESSSSSS! @TheVampsband #CapitalJBB

— LucyAndLydia (@LucyAndLydia) December 6, 2015
Double act Katy B and Tinie Tempah loved EVERY minute of their joint performance (well, we ALL did!)
Always too much fun performing with this guy! @TinieTempah !! Thanks for having us @CapitalOfficial #capitaljbb pic.twitter.com/4FuDSUBLgd

— KATY B (@KatyB) December 5, 2015
It looks like the feeling is mutual - with Tinie tweeting about his two leading ladies for the night - Jess Glynne and Katy B!
Just finished performing with these two lovelies @capitalofficial @KatyB @JessGlynne #CapitalJBB pic.twitter.com/AFzyN8wkT2

— Tinie Tempah (@TinieTempah) December 5, 2015
Jess Glynne was getting a LOT of love on Twitter - she did perform some MASSIVE number ones TBF
All hail queen @JessGlynne I'll never get bored of hearing tracks from the album live. ALBUM OF THE YEAR @CapitalOfficial #CapitalJBB

— soph (@sophnorton) December 5, 2015
Jess Glynne KILLED it! what a queen! #JBBStage #CapitalJBB @CapitalOfficial

— Sophie-Rose Jackson (@SophRoseJackson) December 5, 2015
In fact EVERYONE was loving her performance - even David Guetta from side of stage!
So @davidguetta is loving @JessGlynne right now #CapitalJBB @CapitalOfficial pic.twitter.com/5JdoCuPbHe
— Perry O'Bree (@PerryOBree) December 5, 2015
This #Gouldigger's post about Ellie Goulding says it all really, doesn't it?
ELLIE GOULDING IS BASICALLY LIFE AFTER TONIGHTS PERFORMANCE!! #JBB #CapitalJBB #capital @elliegoulding #EllieGoulding

— Laaannaaa (@GirlAlanah) December 6, 2015
You're welcome Fleur! We LOVED having you... and you TOTALLY brought that 'Sax'!
Love this snap from #CapitalJBB ! Thanks for having me @CapitalOfficial X pic.twitter.com/O5WAyrhibd

— FLEUR EAST (@FleurEast) December 6, 2015
The WSTRN boys were on TOP form - and they're so polite! We're really 'In2' them, not gonna lie...
O2 Arena! @CapitalOfficial! #CapitalJBB! It was a pleasurrrre, we love you pic.twitter.com/rkKkqUJqlS

— WSTRN (@WSTRNmusic) December 5, 2015
OK Jade from Little Mix is a girl after our own heart after this tweet. This is DEFINITELY how we'd celebrate performing to 16,000 fans!
Happy @CapitalOfficial #JingleBellBall to me I'll be dancing it off tomorrow it's fiiiiiiiiine xxjadexx pic.twitter.com/Ajwtm5HZKK

— Little Mix (@LittleMix) December 5, 2015
The #Mixers basically lost their s**t when the girls brought our Jason Derulo to sing 'Secret Love Song'. Can you blame them?
I LITERALLY HAVE BEEN BLESSED TODAY I LOVE SECRET LOVE SONG @LittleMix @jasonderulo #LittleMixAtCapitalJBB pic.twitter.com/6Ye4cfVTbh

— natalie louise (@luvmythirlwall) December 5, 2015
And when they heard it was OFFICIALLY the new Little Mix single... it ALL went cray cray
WHEN YOU REALISE #SecretLoveSong IS THE NEW SINGLE @LittleMix #LittleMixAtCapitalJBB pic.twitter.com/qzU5dvbaXQ

— victoria / TYSM LM (@jesymyqueen__) December 5, 2015
Oh those #Mixers love their ladies.. but they also LOVE taking the mickey as well!
.@ a friend who dances like this @LittleMix #LittleMixAtCapitalJBB #CapitalJBB https://t.co/lKw0svVJuP pic.twitter.com/BbunNXyrCU

— Capital (@CapitalOfficial) December 5, 2015
Nathan Sykes loved EVERY minute of being on that stage... and he was looking hella hot as well
Fun night @capitalofficial #CapitalJBB https://t.co/b5VweCj2gj pic.twitter.com/1SMiYC1ej1

— Nathan Sykes (@NathanSykes) December 6, 2015
The 'Over And Over Again' star even left some fans in tears! SO EMOSHE!
YESS I DID CRY THROUGH NATHAN SYKES!!! NO REGRETS!! STUNNING VOCALS, BEAUTIFUL PERFORMANCE!! #CapitalJBB #JBBStage

— N (@NJL_BITXH) December 5, 2015
And it was a #CapitalJBB for the Years And Years boys... we'll never forget that 'Toxic' cover!
JINGLE BELL BALL WAS SO FUN thank u @CapitalOfficial !! watch us do @britneyspears here: https://t.co/LT4CsOv7sv pic.twitter.com/e9YIjos8u5

— Years & Years (@yearsandyears) December 7, 2015
Some fans came a VERY long way to see Olly and the gang... and now they can't get that Britney cover out of their heads!
Came all the way from Belgium to see @yearsandyears @ #CapitalJBB and it was soooo good I'll be obsessed with Toxic for the next 10 years

— Stefanie Willen (@StefanieWillen) December 7, 2015
David Guetta basically #owned for his closing DJ set on the Saturday
LONDON! You tore the roof off @TheO2 last night - Loved partying with you <3 #CapitalJBB pic.twitter.com/fo3cVhwbw6

— David Guetta (@davidguetta) December 6, 2015
Couldn't have said it better ourselves TBH...
David Guetta knows how to make it a party. #CapitalJBB https://t.co/cxlqL11dT0

— AlissaNicolle (@RatchetGuiseppe) December 9, 2015
The build-up to Bieber was almost too much for some members of the #Beliebers...
@CapitalOfficial uk beliebers right now #LondonsReadyForJustin pic.twitter.com/UuDfBYeSCB

— I MET HIM (@AcousticBi3ber) December 6, 2015
The #Beliebers were more than a little excited to see their boy... some had waited YEARS to experience Justin Bieber live
#LondonsReadyForJustin I AM SO READY IVE WAITED 6 YEARS TO FINALLY SEE HIM #CapitalJBB @CapitalOfficial @justinbieber

— emily//BUY PURPOSE (@emzdbiebs) December 6, 2015
This Belieber could NOT deal with the #FOMO...
@CapitalOfficial I would like to be here but I live in Latin America :c pic.twitter.com/WuRqm6KGr2

— #PreOrderPurpose :) (@BizzleFeatCyrus) December 6, 2015
In fact it may just have been the best night EVER to be a Justin Bieber super-fan...
JUSTIN BIEBER IS SLAYING THE ENTIRE WORLD...WHERE ARE ALL THE HATERS NOW #CapitalJBB pic.twitter.com/1OAxc7Jivl

— JUSTINS KIND HEART (@smilebeth1994) December 6, 2015
That's a wrap! #CapitalJBB... thanks again!
You may also like...