2014's Biggest Celebrity Tweets: 17 Posts You Lot Were LOVING This Year
23 December 2014, 10:42 | Updated: 4 December 2017, 11:10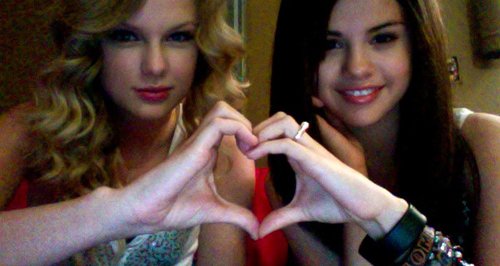 Celebrities on Twitter is pretty much our favourite thing on the planet... and it's not hard to see why!
Besides macaroni and cheese, there is literally NO combination we love better than celebrities and Twitter - it's just genius.
And 2014 definitely disappoint in the social media stakes, as there were some HUGE tweets you lot couldn't stop talking about - so naturally we got them all together to enjoy once again...
1. THE most re-tweeted post of 2014... Ellen's Oscars selfie!
If only Bradley's arm was longer. Best photo ever. #oscars pic.twitter.com/C9U5NOtGap

— Ellen DeGeneres (@TheEllenShow) March 3, 2014
Seriously, has there ever been so much star power in one picture?! Now THOSE are some happy celebrities.
2. Harry Styles gets all thankful after One Direction celebrate their four year anniversary...
4 years. Thank you to everyone who is involved in this. I feel so lucky to be part of it. Everyone who has worked with us thank you..

— Harry Styles. (@Harry_Styles) July 23, 2014
And the #Directioners were clearly VERY happy for him! 362,000 retweets, anyone?
3. Justin Bieber uses CAP LOCKS to catch the attention of his fans
YOU ARE ALL WORTHY NO MATTER WHAT ANYONE SAYS >> BE STRONG GOD IS WITH US ALL> MY BELIEBERS CHANGED MY LIFE> I WILL FOREVER BE GRATEFUL

— Justin Bieber (@justinbieber) January 24, 2014
But obviously it worked! Never under-estimate the power of the #Beliebers.
4. Poor Ariana Grande had a slight mishap with a Victoria's Angel wing earlier this year!
a Victoria's Secret angel accidentally smacked me in the face with her wings and it was awesome #goals #bangbangintomyface

— Ariana Grande (@ArianaGrande) December 3, 2014
EVER the pro, she took it all in her stride with this hilarious tweet!
5. We CAN'T have been the only ones cheering when Taylor Swift dished out this piece of sass...
As my 25th birthday present from the media, I'd like for you to stop accusing all my friends of dating me. #thirsty

— Taylor Swift (@taylorswift13) December 8, 2014
OH SWIFTY, WE SALUTE YOU.
6. Popstars getting along is our absolute FAVE - so this tweet obviously went down a treat
@5SOS tune is brilliant

— Ed Sheeran (@edsheeran) March 8, 2014
And thus, a bromance for the ages was born. AMAZING.
7. Sometimes Rihanna is too funny for her own good!
He gets it! pic.twitter.com/bWLbcFw32B

— Rihanna (@rihanna) June 4, 2014
Who wore it best? We honestly couldn't tell you!
8. It's easy to forget that celebs can get starstuck too sometimes...
OMG BLUE IVY JUST PERSONALLY WAVED AT ME. MY LIFE IS OVER.

— KATY PERRY (@katyperry) August 25, 2014
Poor Katy Perry, we know how it feels, love!
9. Remember when Kanye West posted his response to wife Kim Kardashian's racy photoshoot?
#ALLDAY pic.twitter.com/bQZK8lnNfB

— KANYE WEST (@kanyewest) November 12, 2014
Yeah, he was pretty damn happy about it. #sorrynotsorry
10. OH ASHTON, you're bringing a tear to our eyes!
5SOS has existed for three years now,never in my wildest dreams would I of guessed any of this could of happened,I love you all so much!

— Ashton Irwin (@Ashton5SOS) December 3, 2014
THREE years of 5SOS already?! Here's to another 50!
11. Don't you EVER think about photoshopping Lorde, because she will NOT be happy!
i find this curious - two photos from today, one edited so my skin is perfect and one real. remember flaws are ok :-) pic.twitter.com/PuRhxt2u2O

— Lorde (@lordemusic) March 31, 2014
Oh Lorde, you are the absolute BEST.
12. Just a friendly reminder, Drake NEVER FORGETS...
I remember everything...juss know.

— Drizzy (@Drake) December 3, 2014
So do your best not to upset him, yeah?
13. What's a little arm wrestling between friends, right Justin and Cody?
let's go! pic.twitter.com/azZZk5LU4a

— Cody Simpson (@CodySimpson) July 25, 2014
Just don't ask us to bet on who won!
14. Niall Horan loves a good throwback, and this one is a GOODIE.
Thank you lads ,we've had a great time so far, you are family to me now , not just band mates ! Love you pic.twitter.com/IdUHD3vFnf

— Niall Horan (@NiallOfficial) July 23, 2014
Gosh, we can't handle all this emotion!
15. Taylor Swift proved that 2014 was the year of girlfriends, NOT romances for her!
The rest of the world was black and white, but we were in screaming color. @selenagomez pic.twitter.com/UBKRvBv027

— Taylor Swift (@taylorswift13) November 25, 2014
Nothing quite says 'best friendship' like quoting your own music...
16. Thank you Ashton Irwin for confirming that suede jackets are TOTALLY back in style
Ashton otherwise known as pimp daddy pulled out his best suede jacket for tonight pic.twitter.com/iiWvz7gvEq

— Calum Hood (@Calum5SOS) November 26, 2014
And it sounds like Calum Hood approves!
17. And finally, who ever knew stating the obvious could get you so many re-tweets?!
Just sitting around being 20.

— Harry Styles. (@Harry_Styles) February 1, 2014
We guess when it's Harry Styles, it doesn't even matter WHAT he says, does it?
You may also like...