Chart Update: Will Iggy & J-Hud Be Causing 'Trouble' On The Big Top 40 This Sunday?
16 April 2015, 07:00 | Updated: 17 April 2015, 10:32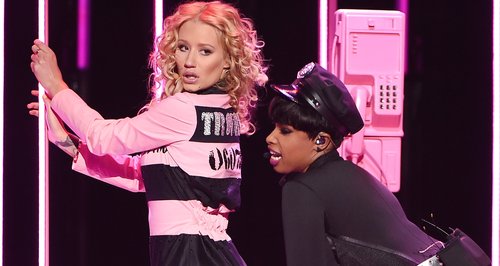 Wiz Khalifa rocketed straight to the top of the chart last week with his 'Furious 7' soundtrack song.
New entries from Wiz Khalifa, Omi, Lethal Bizzle AND Dr. Kucho flooded the Vodafone Big Top 40 last Sunday pushing Nick Jonas and Stevie McCrorie down the pecking order. However this week it may be a different story all together; former No.1 band Clean Bandit are joining the race to the top spot, competing with the feisty collaboration between Iggy Azalea & Jennifer Hudson.
Have a look at the tracks with a chance of bagging themselves the next No.1 single.
The CURRENT No.1: Wiz Khalifa feat. Charlie Puth - 'See You Again'
The American rapper teamed up with singer/songwriter Charlie Puth to bring us this tear-jerking single from the 'Furious 7' soundtrack. The song is dedicated to actor Paul Walker who tragically passed away during filming two years.
Iggy Azalea feat. Jennifer Hudson - 'Trouble'
The booty-licious rapper joins forces with one of the biggest voices in urban music for one seriously feisty collaboration. 'Trouble' has quickly been climbing the live iTunes chart on pre-orders alone - so we're pretty much guaranteeing a high charting entry right here.
Clean Bandit - 'Stronger'
Clean Bandit are no strangers to the Vodafone Big Top 40, topping it with both 'Real Love' and 'Rather Be'. Can they repeat the success they achieved in 2014 or will they fall short against Wiz Khalifa and Charlie Puth? Only time will tell...


Omi - 'Cheerleader'
Catchiest song of 2015 already? We think so! Jamaican soul singer has made a giant splash in the music industry with this breakthrough single and with all this sunshine beaming down on us at the moment we can't imagine Omi will be moving down the chart any time soon.
Dr. Kucho! & Gregor Salto - 'Can't Stop Playing (Makes Me High)'
Spinnin' Records have bought some absolute bangers in the last 12 months such as Alex Adair's 'Make Me Feel Better' and Mike Mago's 'Outlines'. Now we have another! Oliver Heldens has remixed a song that was bought out a HUGE 10 years ago. It already charted at No.5 last Sunday and looks like it'll only move upwards.


Remember to tune in at 4PM on Sunday with Marvin Humes to see who will be battling for the top spot.