Chart Update: Meghan Trainor Is Here To Take Back Her Crown
15 January 2015, 09:00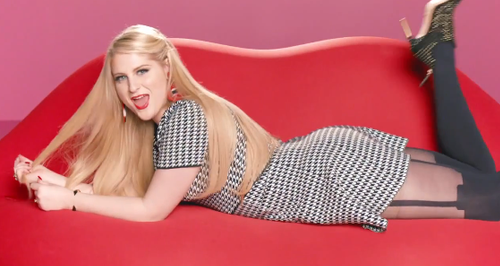 'Uptown Funk' held onto the top spot for a FIFTH week to equal Meghan Trainor's 2014 record, however the girl from Nantucket is back to stop Ronson & Mars from overtaking her.
Here are the contenders for this week's No.1 along with the reigning champion:
The CURRENT No.1: Mark Ronson feat. Bruno Mars - 'Uptown Funk'
Five weeks people! FIVE! It shouldn't be that surprising really, Mark Ronson and Bruno Mars dropped this hit at the end of 2014 and it hasn't moved from the top spot since. If it holds on for one more week it will become the longest reining No.1 in the last twelve months. The only problem is, it's been out for a while now and we still can't nail that dance routine, why is it so hard?
Meghan Trainor - 'Lips Are Movin'
Last year Miss Trainor held the No.1 spot for the longest period of time with 'All About That Bass' and now she is back to stop Mark Ronson and Bruno Mars from surpassing her record. Meghan's new single 'Lips Are Movin' has created just as much buzz as her debut single and will be pushing Ronson & Mars all the way until lockdown this Sunday.
Philip George - 'Wish You Were Mine'
It was only a month ago that Mr George was working in a local Next and golf club however fast forward to today and he is sitting pretty in second place. He's been in with the big boys now for a few weeks and will be hoping that he can make that final leap up to pole position.
Hozier - 'Take Me To Church'
Hozier, real name Andrew Hozier-Byrne, has been slowly rising up the chart for almost a year now with his debut single 'Take Me To Church'. The song itself has actually been available to listen to since September 2013 however as his popularity has flourished over the year so has his chart position. This Sunday, Hozier will be a true contender to knock 'Uptown Funk' off it's perch.
Taylor Swift - 'Blank Space'
When oh when will Tay Tay get a shot at the top spot?? Perhaps she'll have to wait for 'Style' to give her the first No.1 song from her '1989' album. For now, she'll be hoping for a strong weekend with 'Blank Space'.
Vote now for your favourite...
You May Also Like...