Chart Update: Can LunchMoney Lewis Do The Impossible & Stop Omi's 'Cheerleader'?
14 May 2015, 07:00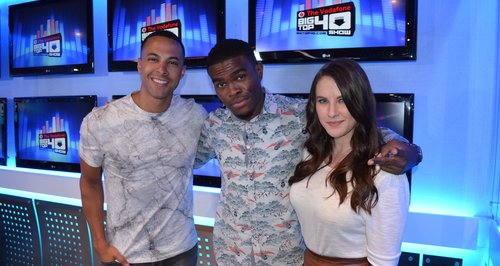 Is Omi destined to join the legendary chart greats with a month at the top or will LunchMoney Lewis snatch the pole position with 'Bills'?
Oh yes, Omi and LunchMoney Lewis were BOTH in the Vodafone Big Top 40 studio last weekend and things got INTENSE. With Omi's 'Cheerleader' destined for a third week on the top of the chart it was down to LunchMoney to knock the Jamaican star off the No.1 spot and boy did he come close!
Lunch debuted at No.2 just HOURS after the song's release on iTunes. Can he go one better this weekend?
Have a look at the tracks with a chance of bagging themselves the next No.1 single:
The CURRENT No.1: Omi - 'Cheerleader'
With the sun FINALLY coming out to see us, Omi's 'Cheerleader' is the perfect track to be listening to whilst chilling in the garden with a icy lemonade and the BBQ going.
Lunchmoney Lewis - 'Bills'
'Oh man, oh man, oh man'. LunchMoney Lewis' has given us something special here. Not only is it one of the catchiest songs we have heard this year, it's the Miami singer's first single EVER. Talk about starting your career off with a bang!
Galantis - 'Runaway (U&I)'
The Swedish electronic duo surprised all the big hitters last weekend when their sweet tune 'Runaway (U&I) scoring a debut entry at No.8 sandwiched between Iggy Azalea and Jess Glynne.
Ella Eyre - 'Together'
The curly haired songstress returns with the next release from her upcoming solo album 'Feline'. The music video sees Ella take her pals on a road trip of complete chaos. Can she top the chart only hours after the song's release?
Shift K3Y - 'Name & Number'
'Name & Number' is the follow up single to his 2014 hits 'Touch' and 'I Know'. The music video sees K3Y himself partying with friends and sharing sweet photos and videos on his phone.
Remember to tune in at 4PM on Sunday with Marvin Humes to see who will be battling for the top spot.