Major Incident Declared on Saddleworth
27 June 2018, 07:43 | Updated: 27 June 2018, 07:44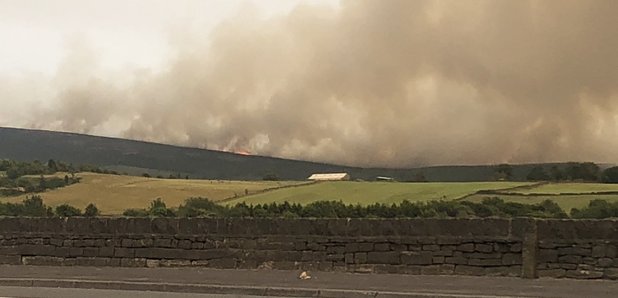 The army is on standby to deal with a major fire on Saddleworth Moor.
34 families have been evacuated from their homes as fire crews try to deal with the situation.
Speaking about the overnight operation to battle the Saddleworth Moor fire, Leon Parkes, assistant chief fire officer with Greater Manchester Fire and Rescue Service, told reporters: "Fire crews have been working in tremendously difficult conditions in the heat, smoke, working with our partner agencies.
"A number of actions were put in place including the evacuation of nearby houses because of the spread of the fire.
"We are doing an assessment on the scene this morning. We have 10 fire engines with 50 fire fighters.
"Some earth sampling was undertaken last night and the readings that have come back are showing safe levels.
"Our advice to members of the public is to close your windows and doors if you are experiencing smoke. Anybody on medication, continue to take that medication.
"The feedback in respect of the smoke is that they're at safe levels."