2018's Best New Beauty Launches That Will Totally Revolutionise Your Life
21 March 2018, 13:15 | Updated: 21 March 2018, 16:26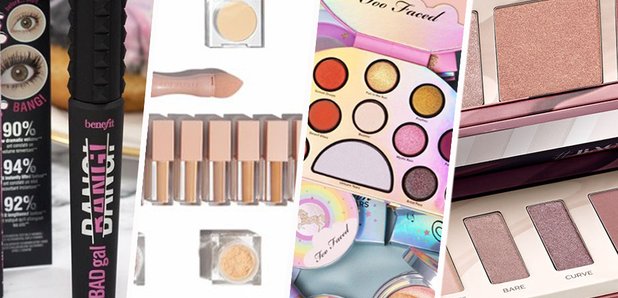 Your make-up game just levelled up.
Everyone loves a make-up bag update, and 2018 is definitely the year to chuck out those crusty products that have been languishing in your drawer way too long (seriously, if you've not used that eye palette in the past three months, you're never going to - plus old products harbour all kinds of nasties so it's always good to do a purge every now and again) and invest in some swanky new cosmetics instead (without breaking the bank).
These Gross Photos Will Make You Throw Out Your Old Make-Up Instantly
From the most amazing new cover-all foundation for a fiver to unicorn-themed goodies... You'll wonder how you ever lived without 2018's amazing new beauty launches.
MAC's Hyper Real Glow Palette - £35 (Launching 12th April)
Your glow just got SO much better - MAC are bringing out the queen of all highlighting palettes , Hyper Real Glow, which features three shades of creamy highlighting powder to make sure you're shining in the best way possible after the longest winter on earth. Roll on 12th April (though you'll be bale to get your hands on it in Selfridges even earlier, from 29th March).
Benefit Bad Gal Bang mascara - £21.50 (Launched February 2018)
If you love a bit of science with your prods, this amazing new volumising mascara from Benefit is practically weightless, thanks to aero-particles (aka one of the lightest known materials) which is derived from space technology. Amazing jet black coverage backed by actual science? Yes please.
Urban Decay's Backtalk palette - £39.50 (Launching May 2018)
If you're a fan of Urban Decay's iconic eyeshadow palettes, you're going to love this two-in-one wonder palette. Combining super on-trend berry and rose eyeshadow colours with a selection of blushers and highlighters, with a removable double-sided mirror as a divider, this will also halve the amount of palettes you need to carry with you. Winner.
Makeup Revolution Fast Base Foundation Stick - £5 (Launched March 2018)
It's rare to find a foundation that provides this much cover for redness in just one swipe without a colour corrector underneath, but ever since this amazing cover up video went viral, this purse-friendly make up stick has been (understandably) selling out. It's hard to believe this hero product costs just a fiver to give results this good, and it comes in 17 shades so whether you're light or dark-skinned, there's one in there for you.
KKW Beauty Three-Step concealer sets - £TBC (Launching 23rd March 2018)
The latest launch from Kim Kardashian-West is set to drop at the end of the month and combines a cream, powder and liquid concealer so you've got a formula for any kind of blemish.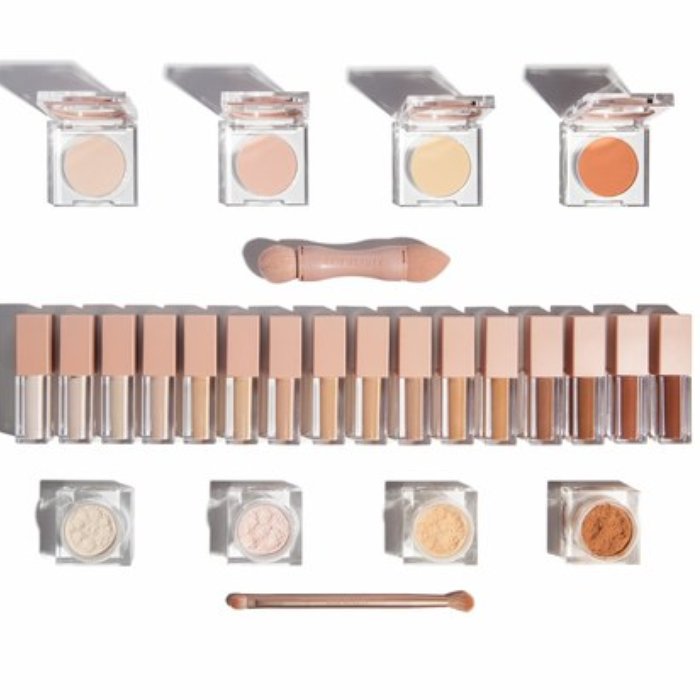 Elegant Touch Nail Saviour - £9.99 (Launched March 2018)
If you're a fan of a five-minute mani but hate the way it leaves your nails when you take your falsies off, Elegant Touch have just changed the game. The brand have launched the 'Nail Saviour', which is a base coat that is designed to protect your natural nail from the glue with a protective barrier coat enriched with Calcium and Vitamin B to strengthen your nails, and we're 100% here for that.
MAC's Oh Sweetie Lipglass collection £TBC (Launch date TBC)
Mac's iconic Lipglass lip gloss has been given a makeover with all new food themed colours... which even smell (and apparently taste) just like the real thing. We'll take 10 of the Funfetti Cake and Death By Chocolate.
Too Faced Life's A Festival collection - £16+ (Launching 15th March 2018)
Can we just talk about the colours of these?! Channelling a literal unicorn, Too Faced have created the perfect collection for all your festival needs - we're already excited to see the literal glow these are going to create!
> Download Our Fancy New App For All Your Beauty News!