Summertime Ball 2013 Live Blog - Sunday 9th June
9 June 2013, 09:24 | Updated: 30 March 2016, 13:50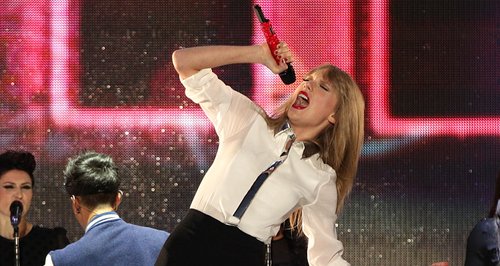 Go behind the scenes to get all the gossip from the Summertime Ball at Wembley Stadium.
As the Summertime Ball happened
22:20 - That's it, we can't believe the Summertime Ball is over for another year! What a fantastic time it was. Thank you to everyone that came and was a part of it - and to everyone that's been keeping up to date at home!
22:18 - To wrap up Robbie's singing 'Angels' - what else? Arms around each other, this is the finale!
22:15 - Robbie's pulling out all the old tunes as well as his Big Top 40 number 1 hit this year 'Candy.' He's full of energy - what a performer, and what a way to end the show!
21:56 - "Let meeeee entertain you" - It didn't take long for Robbie to get the crowd on their feet. He's screaming "Uncle Robbie's here" Don't you just love him?
21:36 - We're keeping you up to date with the biggest news as it happens and here it is - ED SHEERAN HAS JUST JOINED TAYLOR SWIFT ON STAGE. Repeat. ED SHEERAN HAS JUST JOINED TAYLOR SWIFT ON STAGE.
21:33 - The London sun has gone down and JT surprised us all with acoustic performances of Cry Me A River and Mirrors... But the show's not over. Taylor Swift has everyone chanting every word to 'I Knew You Were Trouble.'
21:25- IT DID! Congratulations - the first Capital STB proposal!
@capitalofficial #SBT thanx for the retweet! Just so you know she said YES!! Guys!!!!!!

— Craig Grant (@CraigosTen) June 9, 2013
21:20 - HOLD UP. Did this really just happen?
Wait a sec...did someone just propose via our #STBtweets in the stadium? vine.co/v/bL2YhxJuaDw

— Capital FM (@CapitalOfficial) June 9, 2013
21:07 - Right now. Justin Timberlake. A guitar. Cry Me A River. That's all.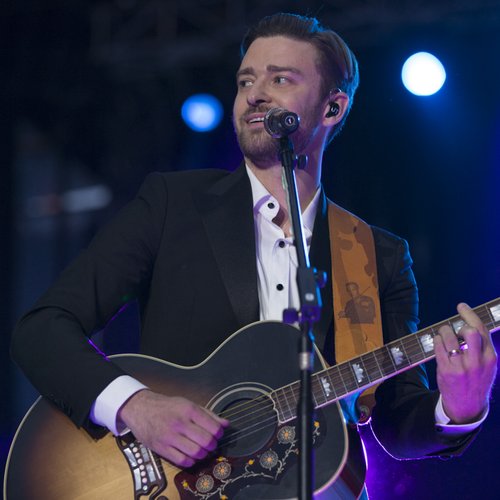 21:04 - "I wish this night would last forever, ever, ever, ever..."
BRAVO will.i.am - take a bow for that performance.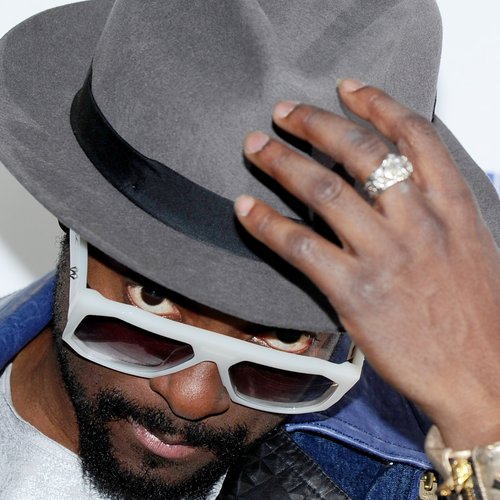 20:49 - Will.i.am has taken over the stage with two HUGE robots because, well why not? It's Will.i.am for god's sake!
20:45 - Hmmmmmm, guess who's eyeing up a date with Taylor Swift?
20:40 - WOW Jessie J took over Wembley! It's still light out in London and the crowd have plenty of energy, enough to get off their seats for Rudimental who have taken over the stage...
20:21 - It's Jessie J time people! Wearing a skin tight black vest dress Jessie look fab as she opens her set with B.o.B singing the hit song 'Price Tag.' Next up, her powerful vocals master 'Lazerlight' and as the crowd follow her jumping up and down, the floor backstage is shaking a little...!
20:02 - Your host with the most Justin Timberlake is back on stage and he's been joined by Capital FM presenters Dave Berry and Lisa Snowdon to answer some of the questions that you tweeted in!
Q. When will you announce Europe tour dates?
A. We'll get in to the specifics soon but I'll be back in the UK next Spring!
Q. Is it true there's a second album coming this year?
A. It is true - it's the second half of the 20/20 Experience. Out on September 20th!
Q. About to propose and so scared!! Wish me luck?x
A. Megan, good luck!
20.00 - Guess who's up next?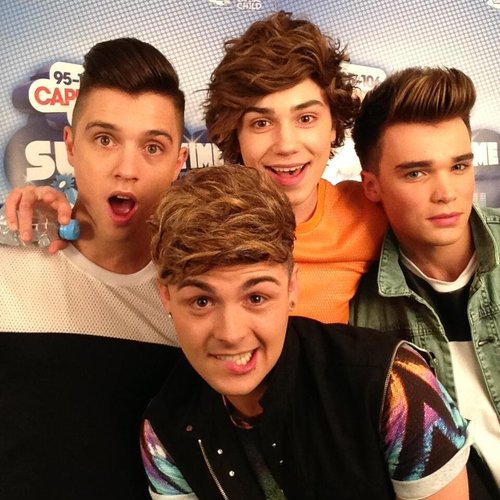 19:50 - Duke Dumont and A*M*E have teamed up to perform 100%. What an amazing year it has been for them...
Just played in WembleyStadium to 80,000 people x @theofficialame MNEK vine.co/v/bL2I207PJIT

— Duke Dumont (@DukeDumont) June 9, 2013
19:43 - Olly wants to know where the troublemakers are at?! That man has got some moves... And he's just been joined on stage by the Rizzle Kicks guys! What a performance.
19:41 - *Just spotted* Union J rehearsing backstage whilst taking in Olly's performance! It's gonna be good!
19:16 - Mr Timberlake just put on his best British accent to introduce to the stage "Essex cheeky chappy Olly Murs!" Singing 'Army Of Two,' Olly's rocking it...
19:14 - JT says it pays to dance at the Capital FM Summertime Ball and he is right! A lucky little girl has just been given two VIP tickets to this years Jingle Bell Ball, just for getting her groove on....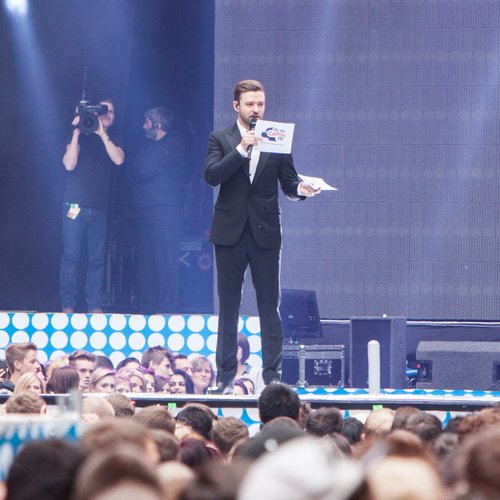 19:07 - Head over to our live feed where you can catch Lawson being interviewed NOW!
18:53 - Mollie, Vanessa, Una and Frankie are wearing some wild outfits for 'All Fired Up!'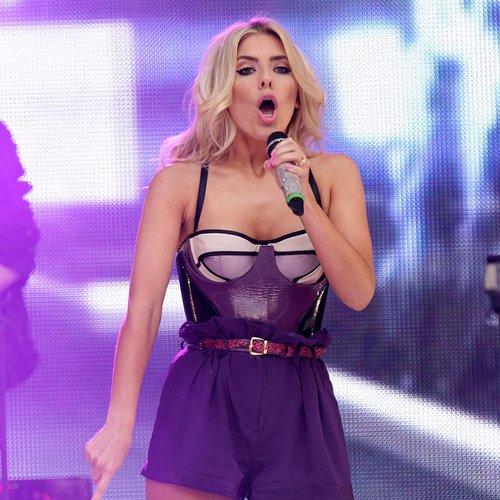 18:49 - Look who's on the red carpet! It's only Jessie J and Robbie Williams!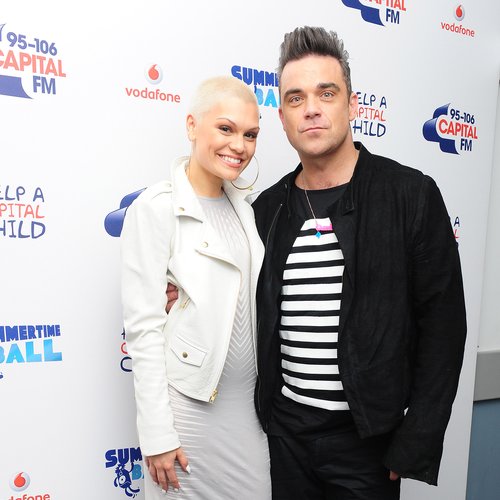 18:43 - James Arthur, Lovable Rogues, Charlie Brown and Naughty Boy have hit the stage one after another to perform their debut singles...
18:31 - Disclosure have been telling us why today's performance was such a big moment for them...
18:24 - What a day for PSY!
How was #PSYatWembleyStadium!? I won't forget 06/09/13!! Thx all my UK fans and Thx @capitalofficial!! #CapitalSTB twitter.com/psy_oppa/statu…

— PSY (@psy_oppa) June 9, 2013
18:20 - Backstage Max is just getting over the excitement of The Wanted's performance! Find all of the highlights from the lads performance below...
STB rocked!! Wembley... I love you

— Max George (@MaxTheWanted) June 9, 2013
18:15 - The second surprise guest of the evening has made an appearance - B.o.B has joined the Lawson boys on stage for a duet of 'Airplanes!'
Just rocked Wembley wit my patnas @lawsonofficial 80,000+ vine.co/v/bLQwKHvIjx2

— B.o.B (@bobatl) June 9, 2013
18:07 - Lawson are on the stage now listening to an 80,000 people strong crowd sing 'Don't You Worry Child' back to them! The atmosphere here at Wembley is electric and there's still loads of incredible artists to come...
18:03 - If you're just joining us, not to worry, we've got all of the highlights from the ball so far ready and waiting for you.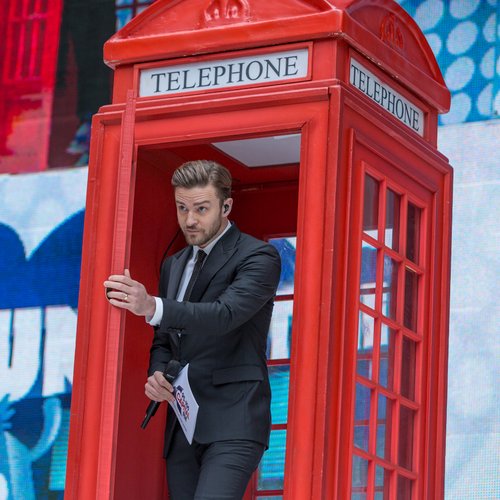 17:58 - Rizzle Kicks ask 80,000 people: "WEMBLEY, ARE YOU READY TO DO SOME HUMPING?" The answer was yes. Yeah yeah yeah, I love that sound...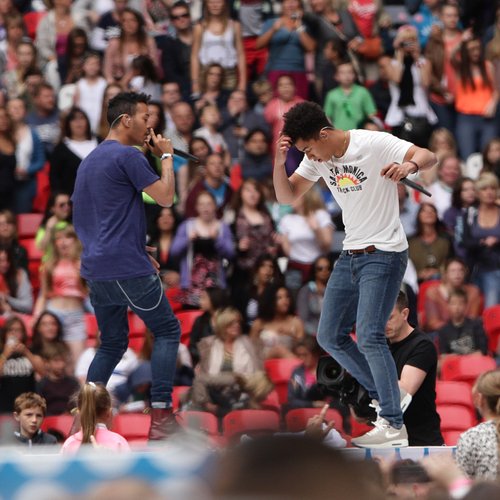 17:54 - Rizzle Kicks have opened up their set with 'Down With The Trumpets!' Do those boys EVER stop moving?
17:46 - On stage is the incredible PSY. He says he's going to perform 'Gangnam Style' with no dancers, completely on his own, so that it's fair – 1 vs 80,00... GO WEMBLEY!
17:42 - You watch Ellie Goulding live in the studio with Rich and Kat here, you can catch Olly Mur's fooling around on the red carpet, or you can get ready for the next act...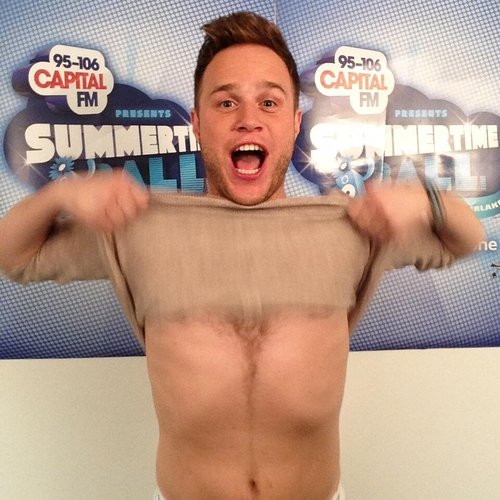 17:32 - WOW surprise guest Ella Henderson just joined Labrinth on stage to sing 'Beneath Your Beautiful.' Were you ready for that??
17:23 - We're backstage and we can feel the ground shaking as the crowd here jump up and down during Labrinth's performance! Now playing: Let The Sun Shine.
17:20 - Justin Timberlake has just vowed to answer any questions that come his way - get involved using the hashtag #TweetJTAnything. Now's your chance!
17:11 - Aluna George have taken over the stage to wow the crowd with their hit song 'Attracting Flies.' Meanwhile, backstage, the performers have been having a pose-up on the Summertime Ball red carpet. Check out who's here and what they're wearing...
17:08 - Next special guest to join Disclosure? Only the lovely Aluna of Aluna George... Her view is quite different from the one she had earlier in rehearsals...
Enter the dragon #capitalSTB vine.co/v/bLUJlX9bhPB

— AlunaGeorge (@alunageorge) June 9, 2013
17:03 - Disclosure's got the crowd going wild. First joined by Eliza Doolite for 'You and Me,' now Sam Smith's got the mic for 'Latch' and it sounds ah-mazing...
16:59 - *ALERT* A bromance is swiftly developing backstage.
I've been a fan of this guy for a long time and just got that he's also a fan of me!! OMG!! @robbiewilliams :-) twitter.com/psy_oppa/statu…

— PSY (@psy_oppa) June 9, 2013
16:52 - Ellie's on the stage, The Lovable Rogue's have left the spa, PSY's up and raring to go... And Taylor Swift....
Backstage at Wembley Stadium, eating candy, waiting to play later on- stoked for tonight! #CapitalSTB

— Taylor Swift (@taylorswift13) June 9, 2013
16:41 - Second act up is Ellie Goulding, kicking off with 'Anything Can Happen' and following up with her fab hit 'Starry Eyed.' The blonde star's got the summer vibe wearing tiny white shorts, a matching top and kept it casual with a pair of trainers for full 'run around the stage' capabilities... That's how it's done!
Evvvverrrry body's starry eyed!!!! vine.co/v/bLxEI9L79lh

— Capital FM (@CapitalOfficial) June 9, 2013
16:37 - Your Summertime Ball host, Mr Justin Timberlake himself, has taken to the stage. Guess what he's wearing?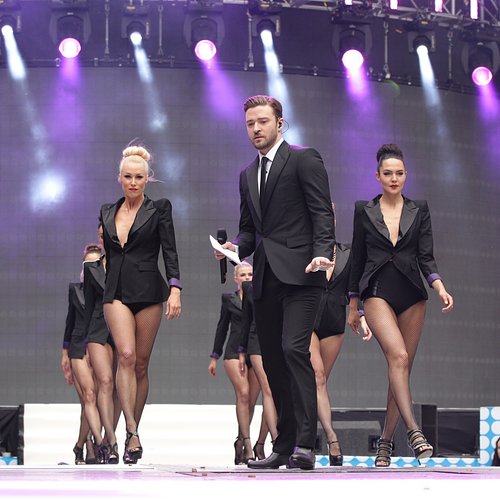 16:32 - We think there are some ladies in the crowd that are very, very happy to see Nathan back with the boys...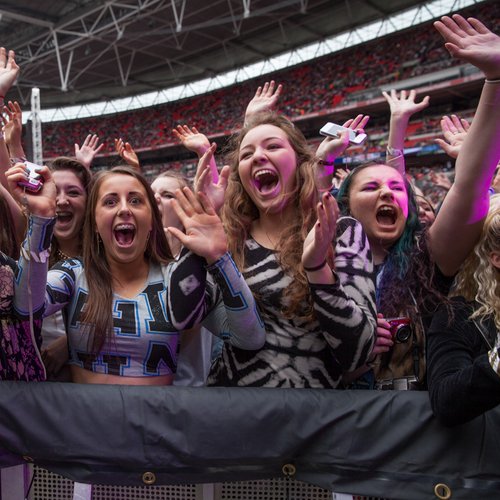 16:21 - The boys have dedicated 'I Found You' to Nathan who can't be here today. WAIT. Why have they stopped singing? OMG... Is that? Nathan's on stage! And he's gone solo!
#willnathsing you bet he will! #capitalstb vine.co/v/bLxI2XlgMiH

— Capital FM (@CapitalOfficial) June 9, 2013
Read what happened in full below...
16:14 - LET THE BALL COMMENCE! The Wanted have opened the show in spectacular style with 'All Time Low' - but there's no Nathan to be seen.
Following throat surgery earlier this year, it's been touch and go as to whether Nathan would be able to perform at the Ball. He told Capital FM earlier in the week that he was taking each day as it comes.
16:10 - You bring the energy, we'll bring the giant balloons...
Okay...who brought the party balloons? #capitalSTB vine.co/v/bLxDhXXdLK5

— Capital FM (@CapitalOfficial) June 9, 2013
16:04 - PSY might prepare with a power nap, but the Loveable Rogues decided to take full advantage of the backstage spa!
Backstage at Summer time ball and Té has decided to have a facial lol #STB - Eddie twitter.com/LoveableRogues…

— Loveable Rogues (@LoveableRogues) June 9, 2013
15:55 - Backstage the last of the Summertime Ball acts are arriving and walking to red carpet before heading to their dressing rooms. Here's Aluna George. We can't work out if they're feeling excited or nervous?!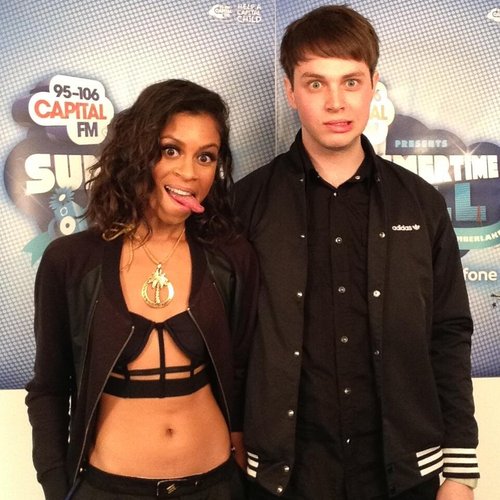 15:51 - There's under ten minutes to go! Capital's very own Marvin Humes has taken to the DJ booth - headphones on, mic in hand, getting the crowd ready for what's going to be the best night of the summer. Here or at home, put your hands in the air and prepare...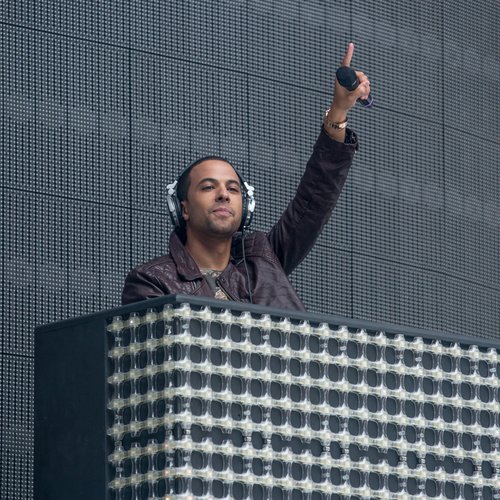 15:48 - Power nap worked. PSY's UP. HE'S READY. LET'S GO.
You ready? Psy is Ready! @psy_oppa in the house #CapitalSTB twitter.com/CapitalOfficia…

— Capital FM (@CapitalOfficial) June 9, 2013
15:34 - There's 20 minutes to go - not only can you keep up with the Ball here but you can also watch all the action live in the Capital FM studio as it's happening!
15:27 - LOL. PSY's getting in a cheeky power nap before the Ball begins. We think Jay's got something to say about it though...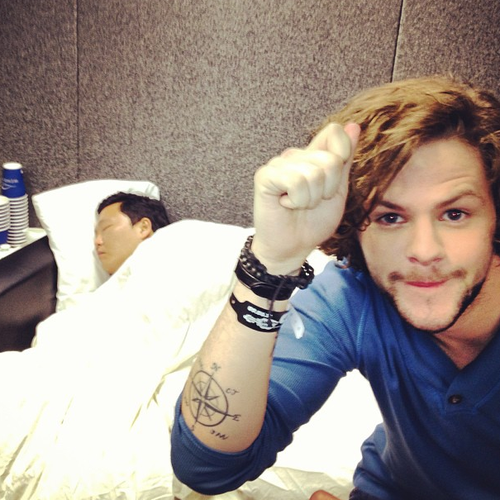 15:16 - Some of the biggest names in pop are all here under one roof, we've got Taylor Swift, Justin Timberlake, Will.i.am... And it's not just you guys that are waiting in the crowd and tuning in from home that are excited to see them. We've been catching up with Union J to find out who they are most looking forward to seeing perform...
15:11 - There's under one hour to go until the best acts in pop take over Wembley. Olly's on the way, The Saturday's are on the hunt for Justin Timberlake and Lawson are up to mischief in their dressing room...
SUMMERTIME BALL AT WEMBLEY STADIUM! No biggie. twitter.com/LawsonOfficial…

— Lawson (@LawsonOfficial) June 9, 2013
14:39 - We'll try to point him in the right direction!
Loving it at Wembley! Think @jtimberlake will be a #Gentleman and pop by our dressing room to wish us luck? @capitalofficial #SummertimeBall

— The Saturdays (@TheSaturdays) June 9, 2013
14:27 - Not at the Ball? Don't worry... Stay with us on our live blog. We've got all the goss on what's happening on the stage AND off the stage, starting here...
14:14 - Ellie Goulding is the first Capital Summertime Ball artist to hit the red carpet.... And she's doing it in style!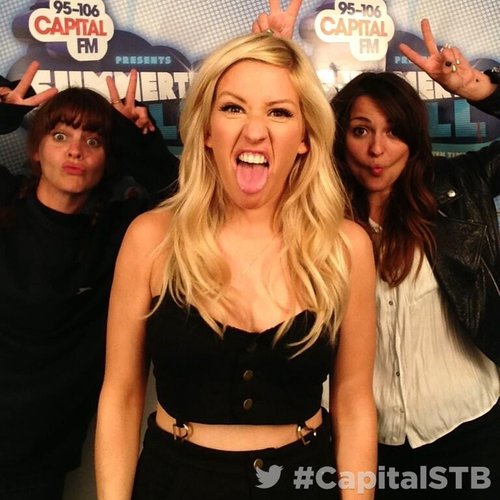 14:00 - Can someone please get Olly a pair of socks? There can be no cold feet before the Ball! We'll have a word with the weatherman for you Mr Murs...
On my way to @capitalofficial summertime ball!! But where is the SUN!!!! I was planning on NO socks today with me boats!! #coldfeet

— Olly Murs (@ollyofficial) June 9, 2013
13:55 - The Wembley doors will be opening in just five minutes time and The Wanted have just finished soundchecking! Could you hear them from Wembley Way TWFanmily?
13:35 - Check out this picture JT just posted!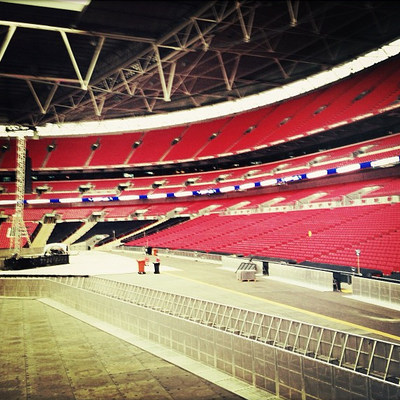 13:28pm - The host with the most is ready, are you?
Can't wait to see this place filled up! Turn Up London!! #CapitalSTB #Yourhostwiththemost instagram.com/p/aVUysHSdiz/

— Justin Timberlake(@jtimberlake) June 9, 2013
12:19pm - Look who we just spotted...
#PSYatWembleyStadium ! twitter.com/psy_oppa/statu…

— PSY (@psy_oppa) June 9, 2013
11:18pm - Look who's 'All Fired Up'...
"@CapitalOfficial: Heyyy @thesaturdays! You all fired up for the #CapitalSTB? http://t.co/2xkCTVWrOK" we'll make the party super naughty ;)

— The Saturdays (@TheSaturdays) June 9, 2013
10:59pm - Disclosure are on stage now sounchecking. We're getting our groove on ahead of the Ball.

10:27pm - Is that the sound of Olly Murs sounchecking? Oh yes, who's ready to join his army today?
10:06pm - Oh yes!
Morning everyone , it's here STB 2013 whoop wembley here we come yay jaymi xxx

— Union J (@UnionJworld) June 9, 2013
9:30am - It's only 9:30, but Jessie's already on stage soundchecking and things are sounding, um, a bit wild.
9:23am - OMG! We're so excited. Who else is making this journey today?