Twitter Reacts To Our NEW #CapitalSTB Breakers: "OH MY GOD IM NOT BREATHING!"
16 June 2014, 11:15 | Updated: 30 March 2016, 13:50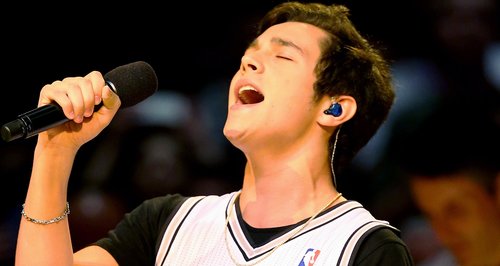 The final acts were announced for this weekend's Summertime Ball – and you guys seem pretty happy about them!
It was a struggle to keep our ah-may-zing Summertime Ball Breakers under wraps for as long as we did, and it seems you guys are just as excited about the acts we revealed!
We announced last night (15th June) that Austin Mahone, Iggy Azalea, Ella Henderson, Kiesza and Rixton will be joining our alreadsy-stellar lineup for the Ball this Saturday (21st June), and as expected, the Internet pretty much exploded with excitement.
These five will be part of our biggest ball EVER, sharing a stage with the likes of Pharell Williams, Miley Cyrus and Cheryl Cole. No pressure there then guys…
Iggy Azalea's fans are keen to see her getting some backstage selfies in while she's not performing…
@IGGYAZALEA IGGYYYYYY! You gotta get a selfie with little mix ok! If you have 1 job...its that!! <3

— Soph!!! (@HemmingsftPezz) June 15, 2014
Rixton's fans are having fangirl feels alllll over the place:
@RixtonOfficial THIS CANT BE HAPPENNG HOLY HELL IM SO PROUD OF YOU

— vey. (@whatupvey) June 15, 2014
This Ella Henderson fan seems to have some psychic abilities and knew our line-up before we did…
@CapitalOfficial @EllaHenderson THIS IS EXACTLY WHAT I WANTED!!!! pic.twitter.com/6Ahj1cxiKB

— 5 DAYS (@Georgia_xxxxx) June 15, 2014
We're getting some ambulances on standby if this is the effect Austin Mahone has on the female population. Wembley holds 90,000 so they may have their work cut out….
@CapitalOfficial @AustinMahone OH MY GOD IM NOT BREATHING

— sof // 5 (@jesysflawless) June 15, 2014
There's still time for this fan to win her way in to see Kiesza and the rest of the incredible acts by listening to Capital…
@CapitalOfficial @Kiesza so jealous that I haven't won tickets!

— MetTheVampsBrad (@JessTheVampette) June 15, 2014
And if you've not managed to bag yourself some of the hottest tickets in town (erm, where have you been?!) you can catch up with all the gossip from the Capital Summertime Ball 2014 this Saturday 21st June right here on Capitalfm.com