WATCH: The Best Videos From The Summertime Ball – We Can't Get Enough Of These!
30 June 2014, 15:58 | Updated: 30 March 2016, 13:50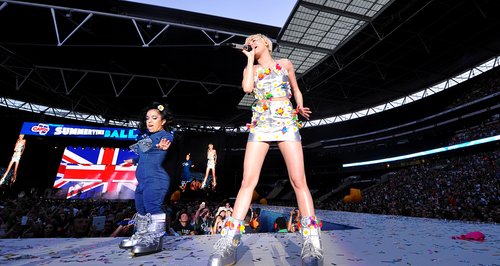 We're still in denial that the Summertime Ball is over for another year, but this pick of our fave performances is just about getting us through until the next one.
The Summertime Ball may have been a week ago, but we are still on a high from the biggest and best pop music extravaganza ever (probably). If you're also still in denial that it is over for another year, you can relive our pick of the unmissable performances - it's NEARLY as good as being there all over again.
Miley Cyrus – 'Wrecking Ball'
We were hard pressed to choose a favourite from all of Miley's brilliantly OTT performances at the ball, but if we HAD to pick one, Wrecking Ball just clinched it. Pure power-ballad amazingness.
Pharrell Williams – 'Happy'
The last song from Pharrell's epic set, the man himself wanted the crowd to make so much noise that it could be heard in Buckingham Palace – and we think you guys may just have achieved it with your 'Happy' noises!
Little Mix – 'Salute'
The Little Mix ladies has some of the FIERCEST costumes from the ball – and their entrance to the stage was pretty spectacular. With hot topless men, fire cannons, powerful beats and the hottest girlband around in one video it is a MUST watch!
Ella Henderson – 'Ghost'
We are in LOVE with Ella Henderson's voice – and she held 80,000 people in Wembley in her hand as she captivated the Summertime Ball with her haunting rendition of her number one song, 'Ghost'.
Cheryl Cole – 'Crazy Stupid Love'
Our Cheryl has been away for a while but the girl came back with a bang with her new single – and a crazy toned stomach – to get the whole of Wembley dancing along.
Iggy Azalea – 'Fancy'
Iggy Azalea brought the ghetto-glam – and Charli XCX – to the Summertime Ball to perform her new song 'Fancy', proving that she is one to watch for 2014!
The Vamps – 'Somebody To You'
The screams were deafening when Brad announced that the boys would be performing 'Somebody To You' at the Ball, and the guys definitely didn't disappoint with their stomping latest single.
Jessie J – 'Calling All Hearts'
THE biggest surprise performance of the night – no one was expecting Jessie J to bring out Nathan Sykes and DJ Cassidy to join her in 'Calling All Hearts'. We're not sure what we love more – the song, or Nathan's adorbs dance moves?
Union J – 'Tonight (We Live Forever)'
The Union J boys descended onto the stage like four perfectly-coiffed angels – yep they FLEW in to perform their new single 'Tonight (We Live Forever)' – definitely an unforgettable moment!
5 Seconds Of Summer – 'Teenage Dream'
We love Katy Perry. We also love 5SOS. We MEGA love this video of 5 Seconds of Summer covering 'Teenage Dream' and giving us teenage feels all over the place.
David Guetta – 'Titanium'
David Guetta was the most spectacular ending to the biggest ball EVER – with an unbelievable lightshow, fireworks and a medley of his huge hits, including the beautiful 'Titanium'.