Summertime Ball Line-Up 2014: 9 INCREDIBLE Performances We Could See At Wembley
15 May 2014, 14:56 | Updated: 30 March 2016, 13:50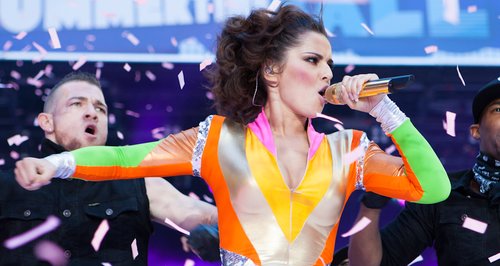 We're counting down the days until the Ball, and these definitive performances from our line-up stars have us SO excited!
1. David Guetta at The iTunes Festival
The French superstar DJ got the crowd at London's Roundhouse pumping back in 2012 - and we can't wait to see him wowing the 80,000 strong crowd at another iconic venue this summer!
2. Pharrell at The Grammys
It was one of the most talked about performances of this year and featured superstars Stevie Wonder and Daft Punk - we wonder what surprises Pharrell's Summertime Ball performance will bring to Wembley?
3. Jessie J at the Olympics Closing Ceremony
We still can't get over how amazing the 2012 Olympics Closing Ceremony was, and the sight of Jessie J singing in a convertible Rolls Royce was incredible! She got 60,000 people singing back to her, but what surprises will she bring to her Summertime Ball performance in front of 80,000?
4. Enrique's lucky lady...
There's one man who is guaranteed to make all the ladies of Wembley weak at the knees, and when he pulled 18-year-old Saskia on stage at the 2009 Summertime Ball there was a lot of jealousy in the stadium! Will he be serenading a lucky lady again this year - and could it be you?
5. Ed Sheeran Getting The Crowd Singing
There's no denying that Ed has written some of the most beautiful songs we've ever heard - and it's almost guaranteed that the person next to you will know all the words, so get practising! Just watch him in action at some of his secret gigs recently, and imagine that with 80,000 people!
6. Ellie Goulding & Calvin on stage together?
We're feeling pretty blessed to have BOTH Ellie Goulding and Calvin Harris confirmed for this year's Summertime Ball - but could the duo share a stage to perform their massive hit 'I Need Your Love'? Ellie's energy at OFF Live has us crossing our fingers!
7. The Vamps rocking out to their biggest crowd yet!
The Vamps had their first taste of Capital's Balls when they debuted at the 2013 Jingle Bell Ball. Their energy filled the O2 Arena, but we're excited to see how excited they can get the 80,000 strong crowd going at Wembley on 21st June!
8. Miley Cyrus at the MTV VMAs
It was the most talked about performance of 2013 and made the world realise that Miley wasn't Hannah Montana anymore... She's had a lot of shocking performances recently, but what surprises will she bring to Wembley?
9. The Return Of Cheryl Cole!
Possibly one of the most memorable Summertime Ball moments EVER was the surprise return of Cheryl Cole! The Wembley crowd were left speechless when she appeared out of the stage as a surprise guest, and we're even more excited to see her return this year with her brand new music!
You may also like...