12 Fan Tweets That Prove The #CapitalSTB Will Be The Best Day Of Your Life
17 May 2017, 10:09 | Updated: 17 May 2017, 10:27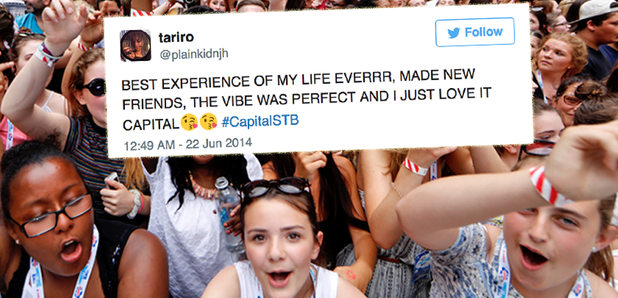 You guys are what make the #CapitalSTB a memorable event every year...
Everyone has an individual experience of Capital's Summertime Ball with Vodafone and we love seeing your unique perspectives on social media. From pics of your fave artists to those all important selfies, your behind-the-scenes footage is always top notch.
So here are 12 of your #CapitalSTB tweets which prove it's the biggest and best party of the entire summer...
1. Who was her favourite performer though?
My gorgeous daughters face when her favourite singer came on stage #CapitalSTB #ArianaAtCapitalSTB #ArianaGrande pic.twitter.com/RBHLddIFYf

— Jackie Perriman (@JackiePerriman) June 12, 2016
2. #SquadGoals
Yesterday was so good #CapitalSTB pic.twitter.com/jPrBeij41J

— abs (@abbietrippxx) June 12, 2016
3. We have so much fun every year...
Had so much fun yesterday at Wembley #CapitalSTB @CapitalOfficial pic.twitter.com/ZTgEobtS1K

— Libby. (@libbycolewilkin) June 12, 2016
4. Making dreams come true
#2012BieberMemories Seeing Justin at the #CapitalSTB.. the BEST night of my life!

— Jess ♡ (@jessicabensonn_) December 24, 2012
5. Helping you get messages to your idols
@justinbieber did u see the banner @ella_jb_johnson made for #CapitalSTB !! pic.twitter.com/JYazSngR

— HAIR by kelly (@mamajohnsonxx) June 13, 2012
6. Giving you all the feels in your soul
Can we just take a minute to remember @KatyPerry singing #WeAreTheChampions at #CapitalSTB? I felt it somewhere in my soul, like.

— Gemma Purry (@GemmaPurry) November 9, 2013
7. The legendary Marvin Humes always opens the #CapitalSTB with a bang
Marvin on the decks #CapitalSTB pic.twitter.com/3jMtGd2Jat

— becca platt xxxxx (@Becca_Platt_) June 10, 2013
8. We bring the noise
My fave:ed
The cutest:5sos
The surprise:Rita Ora
The amazing voice:Jessie j
The new love: iggy and Ella h
The ringing ears: me#CapitalSTB

— rachel (@Rachie228) June 21, 2014
9. Bringing people together
BEST EXPERIENCE OF MY LIFE EVERRR, MADE NEW FRIENDS, THE VIBE WAS PERFECT AND I JUST LOVE IT CAPITAL #CapitalSTB

— tariro (@plainkidnjh) June 21, 2014
10. Just look at that crowd
Summertime ball was bloody brilliant! Loved it!! #CapitalSTB @CapitalOfficial pic.twitter.com/K6l441evbK

— JOY (@joymorrisxo) June 21, 2014
11. When you think it can't get better than last year
Capital Summertime Ball was amazing!! Don't know how they will top it next year! @CapitalOfficial #CapitalSTB pic.twitter.com/JW8HTYgixH

— Larissa Westcott (@l_westcott) June 6, 2015
12. When the acts performing are bigger fans of the #CapitalSTB than you
Sound check done! Let's go! So excited #CapitalSTB pic.twitter.com/JvwFhsaSI0

— The Vamps (@TheVampsband) June 10, 2016
You may also like...