Summertime Ball 2015: 11 Of The Best Viral Vines And InstaVids
8 June 2015, 14:45 | Updated: 30 March 2016, 13:50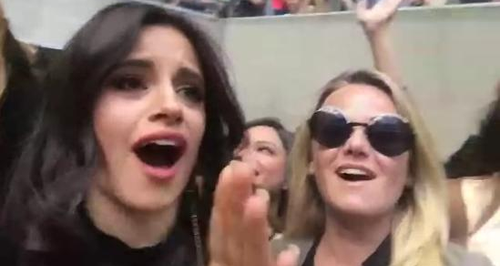 From Fifth Harmony's Camila losing all cool over 1D to Jason Derulo singing on a buggy, here are all the best moments you may have missed on Vine.
It's known fact the Summertime Ball is the hottest party of the summer, and these vines prove exactly how much fun goes on backstage AND on it!
1. Fifth Harmony's Camila reacts in the best way to One Direction opening the #CapitalSTB
Fan girling right through to the end along with 80,000 others.
being in the one direction fandom taught me that during concerts you must LOSE ALL CHILL #somethingsneverchange pic.twitter.com/lzNkY8qu53

— camEEla cabeYo (@camilacabello97) June 6, 2015
2. One Direction's Louis Tomlinson looks all adorable as he counts himself in
Just to be certain.
3. Jason Derulo performs on a buggy on the way to stage... And we all wished we'd been there!
Save it for the stage, Jason!
4. Fifth Harmony celebrate coming off stage after performing to a crowd of 80,000!
And conquer that flight of stairs effortlessly in some rather killer heels.
5. Speaking of crowds, this is what it looks like the moment the gates open...
RUUUUUN.
6. Ariana Grande proves herself to be a real Harmonizer
Fifth Harmony get their worth it dance on, and the 'One Last Time' singer can't help but get involved.
#CapitalSTB sound checks @ArianaGrande dancing to @FifthHarmony #Harmonizers #Arianators pic.twitter.com/ualE0UdqBV

— Becca Ashley (@beccaashtweets) June 8, 2015
7. Harry Styles gets flashed, and doesn't know where to look!
No doubt this GIF will resurface... A LOT.
8. That one time we started creeping on Harry Styles (jokes, it wasn't just the one time)!
We went all Camila backstage after spotting the 1D hottie on his way to stage.
9. Rita Ora reacts to being interrupted mid interview in the best possible way
Watch Capital's Ant Payne turn fifty shades of red in the full length video here.
10. Ne-Yo recreates his most embarrassing stage fail for us on the red carpet
And begins a rendition of 'So Sick' #swoon.
11. And the Little Mix ladies explain how to keep those dreaded sweat patches at bay
We definitely need to know more about these 'dress shields', genius.
You May Also Like...
WATCH: Little Mix perform 'Black Magic' for the first time at the Capital Summertime Ball with Vodafone
Check out the awkward moment Rita Ora interrupts our live broadcast at the Ball