Summertime Ball 2013 Live Blog - Saturday 8th June
8 June 2013, 17:06 | Updated: 30 March 2016, 13:50
Follow all the behind the scenes action and gossip from the Summertime Ball at Wembley Stadium.
We've entered the final countdown to the Summertime Ball - and Capitalfm.com is coming live from the backstage area at Wembley Stadium today to bring you all the latest action.
This year's line-up for the Ball is our biggest yet, with Robbie Williams, Taylor Swift, The Wanted, Lawson, Olly Murs, Union J and Disclosure all among the artists set to perform at Wembley on Sunday (9th June).
Other artists due to take to the stage at Wembley include PSY, Ellie Goulding, Rudimental, James Arther and Charlie Brown.
We'll be giving you a taster of the Ball throughout the next 48 hours, with all the latest gossip and news from backstage.
Live Blog
Saturday
18:59pm - We're signing off for the night, but we'll be back tomorrow to bring you all the gossip, news, videos, pictures, Vines and GIFs from the backstage area. It's going to AMAZING, so keep it Capital.

17:38pm - An update from Labrinth...
See you at the ball...Lab HQ #CapitalSummertimeBall

— Labrinth (@Labrinthda1st) June 8, 2013
17:13pm - Totally going to be getting down to Taylor Swift's set tomorrow in the style of Taylor herself.
17:02pm - Are you coming to the Summertime Ball tomorrow? Head down to the comments and let us know who you're excited to be watching.
17:00pm - Look what's happened so far backstage. Seriously, you need to look at this.
See all the behind the scenes action as we continue the countdown to the Ball.
16:54pm - We can't wait to see you either Union J!
Great rehearsals today!!! Buzzing to perform in front of 80,000 at Wembley stadium tomos!!! Bring it on woop JJX

— Union J (@UnionJworld) June 8, 2013
16:49pm - So we've been listening to Charlie Brown and James Arthur soundchecking - and a member of the Capitalfm.com team just got locked in a cupboard. It's all going off at Wembley!
15:33pm - Charlie Brown is soundchecking right now in the sunshine.
14:50pm - Here's another dressing room.
14:45pm - We've been snooping around the backstage area again and maybe - just maybe - we might have found ourselves in Justin Timberlake's dressing room.
14:41pm - Labrinth... come in to Wembley and have a soundcheck. As you might have guessed, we've just been watching Labrinth soundcheck and he is sounding AMAZING in the sunshine. You're in for a treat tomorrow.
13:43pm - The excitement among our artists is growing. Jessie J is feeling 'Wild' about tomorrow... does that mean there's going to be a new song in her setlist!?
STB tomorrow! Going WILD at Wembley! Waaaah!

— JESSIE J(@JessieJ) June 8, 2013
12:40pm - Just been taking a look at what the Summertime Ball artists are tweeting ahead of this year's event. Looks like Naughty Boy is pretty excited...
It nearly time... la la la twitter.com/NaughtyBoyMusi…

— Naughty Boy (@NaughtyBoyMusic) June 8, 2013
12:15pm - So, no sooner do we arrive at Wembley than we bump into the Union J boys soundchecking on stage. Here's what went down.
11:48pm - It's Saturday. It's 24 hours until the Summertime Ball? We're excited! Stay tuned to the blog for more action.
Friday
18:14pm - We're signing off for the day at Wembley - and what a day it's been! We've been hanging out in the stars dressing rooms as they are prepared for the start of the Summertime Ball on Sunday.
We'll be back tomorrow, but don't forget to keep it Capital via your radio, desktop, Capital App and TV as the countdown to the Summertime Ball 2013 continues.
18:01pm - The excitement is building!
Can't wait to see @psy_oppa 's moves at the #CapitalSTB !!!

— Charlie Brown (@CharlieBrownLDN) June 7, 2013
16:45pm - The clock is ticking down on this year's Summertime Ball.
Don't forget to check out what's happening in our backstage gallery, there's loads of photos as the setup continues...
15:58pm - We're going the extra step this year in making sure all the seats for our Summertime Ball fans are kept warm for their arrival. Don't believe us? Click the image to see if you're included...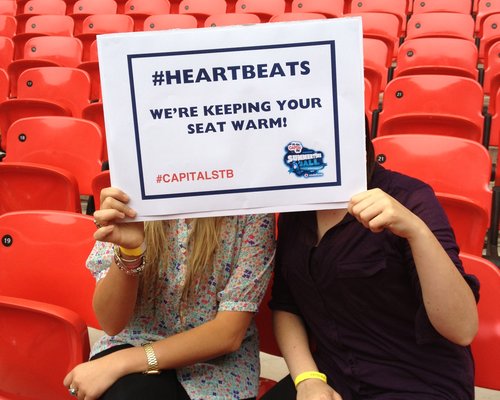 14:52pm - We've been taking a look at some weird and crazy numbers about this year's Summertime Ball performers. Check them out...
To celebrate this year's line-up, Capital is taking a closer look at some of the numbers which mean the most to the acts on the line-up!
14:15pm - Just been sneaking around the dressing rooms...
13:50pm - We've just got back from lunch and the Summertime Ball atmosphere is kicking off at Wembley already. Trucks are filing in with equipment ahead of Sunday as the Summertime Ball stage appears on the Wembley horizon.
We've been backstage all morning already and we've got some amazing pictures of the setup. Simply hit the big picture below to see them all.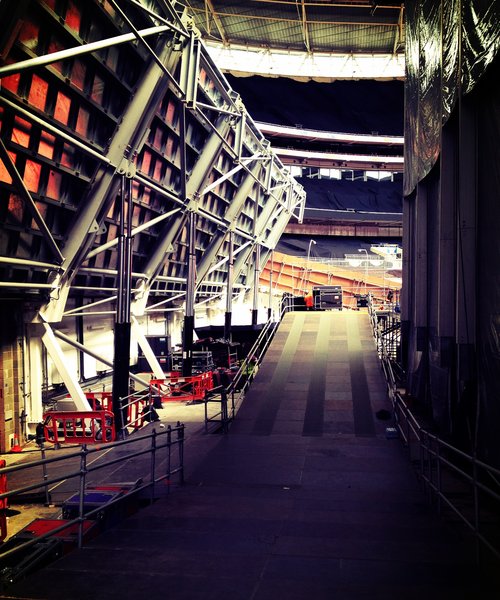 12:56pm - We're live at the Summertime Ball. How excited are we? Well...