Capital's Summertime Ball 2019 FAQs: Who Is On The Lineup And What Time Does It Start?
30 April 2018, 08:49 | Updated: 8 June 2019, 10:00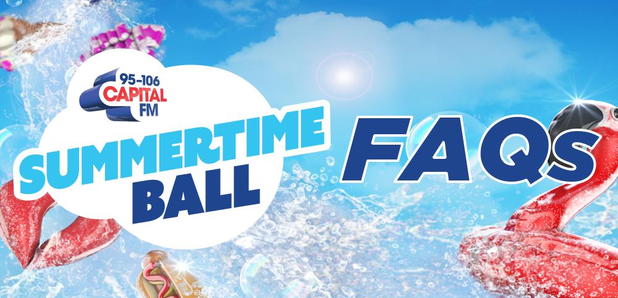 Get all the latest information on line up, tickets and prices, date and venue and more for Capital's Summertime Ball 2019.
When and where is Capital's Summertime Ball?
Capital's Summertime Ball will take place today, Saturday June 8th 2019 at Wembley Stadium in London (HA9 0WS).

Who is performing and what is the line-up for the 2019 Summertime Ball?
Some of the world's HOTTEST artists getting ready to take to the stage at Wembley to perform just for YOU!
Calvin Harris
Maroon 5
Halsey
Mark Ronson
Anne-Marie
Jonas Brothers
Jess Glynne
5 Seconds Of Summer
Khalid
Ellie Goulding
Sigala
Rita Ora
Jax Jones
Mabel
Jonas Bue
Sigrid
Ava Max
Tom Walker
Lauv
Where can I buy Summertime Ball tickets from?
Tickets for the event are now sold out.
Can I buy tickets early in the pre-sale?
Pre-sale is now closed.
How can I watch the Summertime Ball?
The one and only Mark Ronson will open this year's show and you can watch the whole thing from 2:30PM today.
Right here on CapitalFM.com
The Capital App or GlobalPlayer
Capital's channel on Apple News
On TikTok
Can I bring a bag to the Summertime Ball?
There is a new bag policy since last year's event.
Bags are limited to one per person. Bags must not be bigger than A4 in size.
Height 297mm (11.7inches), Width 210mm (8.27inches), Depth 210mm (8.27inches).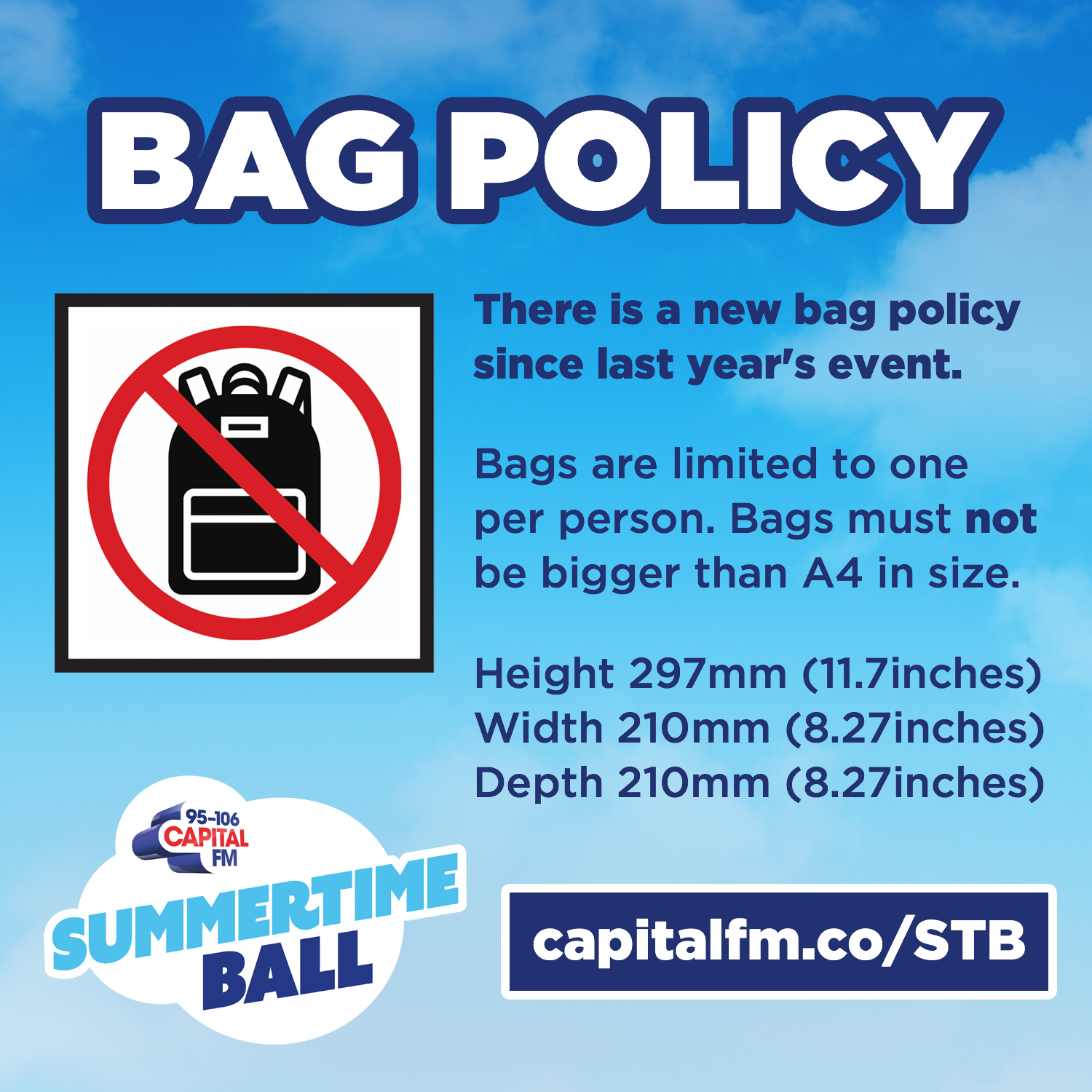 How can I travel to Wembley for the Ball?
Wembley Stadium is a public transport destination, click here for the latest travel information and plan your journey in advance from home. For information on National Express Coaches travelling to the stadium for the Summertime Ball click here.
What time does the Summertime Ball start and finish?
General doors will open at 12pm with Mark Ronson opening the ball at 2.30pm and the show will finish at approximately 10pm. Please note that timings are subject to change.
What time is last entry to the Summertime Ball?
There's no last entry time for the Summertime Ball, but we recommend you get there as close to 12pm as possibly ready for the event to begin at 2.30pm.
Is there a Summertime Ball traffic and travel update?
There is and all the information you'll need regarding traffic and travel can be found here.
What is the Summertime Ball security?
There will obviously be lots of security checks in place on the day as you'd hope and expect, so arrive at Wembley as near to 12pm as you can to give everyone enough time to get in for the show. Please note the new baggage restrictions mentioned above.
Is there a specific Summertime Ball Meeting Point?
After the show, there's a specific meeting point for anyone being picked up, which is market square (next to the Brent Civic Centre).
I am a wheelchair user or I need assistance is there a dedicated number to try and book my tickets?
Wembley Stadium has 310 wheelchair accessible spaces with an equal number of adjacent seats available for Personal Assistants. They also have 100 enhanced amenity seats for ambulant disabled visitors, or visitors attending with assistance dogs. The seats are situated on all 5 levels of the Stadium, and are available in all areas of the seating bowl. Assistance dogs are not permitted in other seating areas.
Tickets for these areas are handled directly by Wembley Stadium and cannot be booked online or via any other method or the official ticket agents. The dedicated booking number at Wembley is 0800 093 0824.
Can I bring my own food and drink to Wembley Stadium?
Visitors are allowed to bring small quantities of food for personal use only. It must fit within your one bag allowed. Bottles and cans are not permitted into the stadium.
No alcohol is permitted into the stadium.
What should I wear to Capital's Summertime Ball?
We want you looking your absolute best for the Summertime Ball, but it's also important to be mindful about the British weather, so plan your outfit accordingly.
Other Key Event Information
Children under 14 must be accompanied by an adult aged 18 or over who is responsible for them at all times.
Children under 12 are not permitted in standing areas which includes the Pitch.
The Stadium operates a Challenge 25 policy on alcohol. Please bring proof of ID to show you are over 18 in order to purchase alcohol.
Level 5 has a steep gradient and is unsuitable for vertigo sufferers.
Summer lives on Capital! #CapitalSTB