Capital's Summertime Ball 2022 FAQs
9 June 2022, 16:39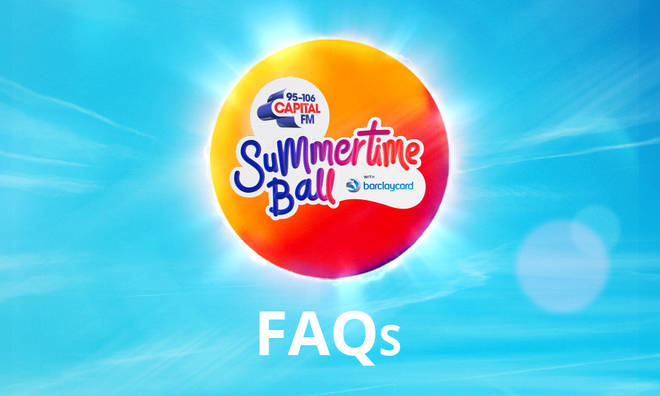 Get all the latest information on Capital's Summertime Ball with Barclaycard
When is Capital's Summertime Ball with Barclaycard happening?
The UK's Biggest Summer Party is on Sunday June 12th 2022.
Where is Capital's Summertime Ball with Barclaycard taking place?
We're taking over the iconic Wembley Stadium bringing the world's hottest hit music stars with us!
When can I buy tickets to Capital's Summertime Ball with Barclaycard?
Tickets for Capital's Summertime Ball with Barclaycard are now sold out! Your only way in is to win, so keep it Capital for your chance to be at the UK's biggest summer party.
Is there a pre-sale for Capital's Summertime Ball?
Pre-sale is now closed.
How To Watch Capital's Summertime Ball With Barclaycard 2022
Capital's Summertime Ball 2022: How To Watch Live From 2pm On Global Player
Who is on the line-up for this year's ball?
We've got the hottest music stars on our Summertime Ball 2022 line-up – here's who's taking over Wembley Stadium!
Harry Styles
Ed Sheeran
David Guetta
KSI
Aitch
Anne-Marie
Jax Jones
George Ezra
Becky Hill
Mabel
Joel Corry
Mimi Webb
Tate McRae
Sigala
Gayle
ArrDee
Lauren Spencer-Smith
A1 x J1
Eddie Benjamin
Maisie Peters
Sam Ryder
Nathan Dawe
What are the terms and conditions for buying a ticket to the event?
All of the info and small print can be found right here.
How can I watch the Summertime Ball?
The Summertime Ball will be live-streamed on Global Player from 2pm on Sunday 12th June. You can download the Global Player app for your mobile, or head to globalplayer.com.
Download Global Player from Google Play (Android)
Download Global Player from the App Store (iPhone and iPad)
Can I bring a bag to the Summertime Ball?
Bags are limited to one per person. Bags must not be bigger than A4 in size.
Height 297mm (11.7inches), Width 210mm (8.27inches), Depth 210mm (8.27inches).
How can I travel to Wembley for the Ball?
Wembley Stadium is a public transport destination, click here for the latest travel information and plan your journey in advance from home.
What time does the Summertime Ball start and finish?
General doors will open at 12pm. The event starts at 2.00pm with a special set from Ed Sheeran and will finish at approximately 10pm. Please note that timings are subject to change.
What time is last entry to the Summertime Ball?
There's no last entry time for the Summertime Ball, but we recommend you get there as close to 12pm as possible, ready for Ed Sheeran's opening performance at 2.00pm.
Is there a Summertime Ball traffic and travel update?
There is and all the information you'll need regarding traffic and travel can be found here.
What is the Summertime Ball security?
There will obviously be lots of security checks in place on the day as you'd hope and expect, so arrive at Wembley as near to 12pm as you can to give everyone enough time to get in for the show.
I am a wheelchair user or I need assistance is there a dedicated number to try and book my tickets?
Wembley Stadium look after all accessibility requirements directly, whether wheelchair accessible spaces or ambulant disabled requests.
Tickets cannot be booked online or via any other method or the official ticket agents. The dedicated booking number at Wembley is 0800 093 0824. Full detail is also available here.
Can I bring my own food and drink to Wembley Stadium?
Visitors are allowed to bring small quantities of food for personal use only. It must fit within your one bag allowed. Bottles and cans are not permitted into the stadium. No alcohol is permitted into the stadium.
What should I wear to Capital's Summertime Ball?
We want you looking your absolute best for the Summertime Ball, but it's also important to be mindful about the British weather, so plan your outfit accordingly.
Other Key Event Information
Children under 5 are not permitted.
Children under 14 must be accompanied by an adult aged 18 or over who is responsible for them at all times.
Children under 12 are not permitted in standing areas, the Pitch and Golden Circle, but are permitted in the Ball Zones.
The Stadium operates a Challenge 25 policy on alcohol. Please bring proof of ID to show you are over 18 in order to purchase alcohol.
Level 5 has a steep gradient and is unsuitable for vertigo sufferers.
#CapitalSTB