We're Changing Lives, Because Of You & Here's How You Can Help!
18 April 2019, 06:00 | Updated: 3 October 2019, 12:21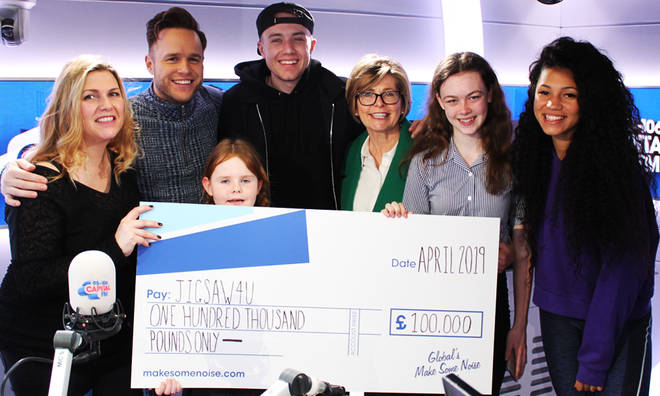 Watch how Capital Breakfast surprised small charities with huge cheques, with a helping hand from Olly Murs, and see what you can join in with this year to raise cash!
It's that time of year again, when we put on our loudest outfits, noisy events and extreme challenges to help raise money for Global's Make Some Noise.
Last year, you helped us raise £4.2 million to donate to game-changing grants to 31 small charities across the UK.
This year, we're sending Roman on a HUGE challenge to travel across the UK with no cash, and no phone on his No Money Road Trip, enlisting the help of listeners to put on 5 shows in 5 days, all to raise money for charity!
From Liverpool to London, and Glasgow through to Southampton, Global's Make Some Noise helped almost 17,000 children and young people living with illness, disability or lack of opportunity over the next two years.
This year, Make Some Noise day is on Friday 11th October This year, and with it, comes the challenges, the costumes, and the charities that need your support.
For the noisemakers…Hold a DRESS LOUD DAY in the office, at school, or with family and friends, by putting on your brightest and boldest clothes on Friday 11th October.
For the cake bakers…RAISE SOME DOUGH and Sift and stir your way to raising money for small charities across the UK - put on a bake sale for your family, friends or colleagues.For the game-changers…Whether you're a raring to go runner, a weekend walker, a Zumba dancer or a thrill seeker – Make Some Noise has plenty of challenges you can sign up to.

Make sure you stay tuned to Capital to hear about how we're raising money because there are loads of ways you can get involved... Find out where your money goes here.

If you need some tips and advice about ways to get involved, take a peek here!
Find out all the ways you can get involved or, to donate now!
THANK YOU!
Here's where the money from last year's Make Some Noise day went- Capital Breakfast was able to surprise one of those charities, Jigsaw4u, a small charity based in London that helps children, young people and their families experiencing bereavement, with a cheque for £100,000!
The total is more than double the amount they were expecting to raise, which is a staggering achievement.
It also means Make Some Noise is funding the specialist support role for 2 years instead of 1, helping the charity to deliver over 700 group sessions and one-to-one support sessions.
Check out our video to see how we surprised 31 small charities up and down the country with far more money than they were expecting!
> Download Our Brand New App For All The Latest Music News