Erm, Did Taylor Swift Just Throw Epic Shade At Katy Perry… Using LEFT SHARK?!
28 July 2015, 11:01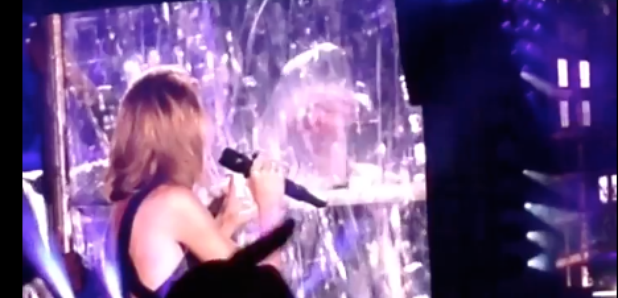 A shark popping up during Taylor's performance of 'Bad Blood' can only be aimed at one former friend…
Will the feud between Katy Perry and Taylor Swift ever end? It seems not, if the latest twist in the saga is anything to go by…. Tay's got Left Shark involved in their beef!
When a shark popped up behind Taylor when she was performing 'Bad Blood' on a recent date of her '1989' World Tour – the song famously written about her fall out with Katy Perry – fans came to one conclusion, it was serious shade towards KPez.
@TSwiftOnTour @TSwiftNZ @taylorswift13 THERE WAS A SHARK DURING #BADBLOOD TODAY #BADBLOODSHARK pic.twitter.com/VXWetafdj6

— Jillian (@Swifty448) July 26, 2015
During her performance in Foxborough, Massachusetts over the weekend, a shark puppet could be seen peering over Taylor's shoulder, and when she caught sight of the creature, Taylor could be seen to be giggling.
The stunt is unlikely to be coincidental – when Katy Perry was the Super Bowl Half Time Show performer earlier this year, the performance was talked about for many reasons, especially the awkward dancing of the Left Shark behind her – so fans are definitely going to draw the same conclusions.
Taylor has made no secret that 'Bad Blood' was written about another female singer, telling Rolling Stone, "She did something so horrible, I was like 'Oh, we're just straight-up enemies.' And it wasn't even about a guy. She basically tried to sabotage an entire arena tour. She tried to hire a bunch of people out from under me. So now I have to avoid her."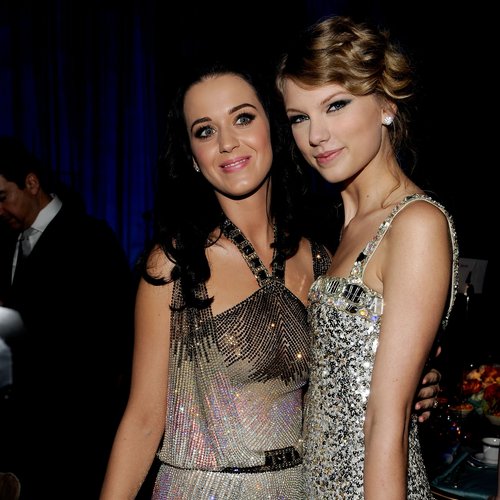 While Taylor didn't mention any names, the star in question appears to be Katy who reportedly tried to nab some of Taylor's 'Red' tour dancers for her own 'Prismatic' World Tour, with some of them giving Tay 30 day notice to go and work for Katy.
The feud showed no signs of ending last week when Taylor got into a war of words with Nicki Minaj after thinking one of Nicki's tweets was a dig at her being nominated for the MTV VMA Video Of The Year for 'Bad Blood' while Nicki's 'Anaconda' was overlooked.
Finding it ironic to parade the pit women against other women argument about as one unmeasurably capitalizes on the take down of a woman...

— KATY PERRY (@katyperry) July 22, 2015
Although Nicki and Taylor made up after the fight, Katy weighed in saying that it's ironic that Taylor thought Nicki was pitting women against each other when she had done the same thing to her, by making money off a song that tears Katy down.
Ladies, you might be fighting, but leave poor Left Shark out of it – he's got enough problems trying to learn how to dance as it is, without all your agg on top!