Taylor Swift Closes Capital Jingle Bell Ball 2014 With An EXPLOSIVE Final Performance
7 December 2014, 22:03 | Updated: 8 December 2014, 09:27
The 'Blank Space' superstar did not disappoint - playing all the fan favourites as the final act of our Ball.
It was the LAST performance of the Capital Jingle Bell Ball 2014 with Morrisons and the fans wanted something VERY special… fortunately Taylor Swift delivered that and SO much more with her set!
She arrived onto the stage in a sexy black and gold cropped top and hot pants… showing off those looooong legs and flashing a smile at the crowd!
Taylor went straight into her ever-catchy hit 'We Are Never Ever Getting Back Together' to kick off the closing set of this year's event, and obviously she smashed it!
"Good evening, London! I'm Taylor, it's very nice to see you again'! Taylor said, after wrapping up the first song. "So this is the very last show, of the very last night of the Capital Jingle Bell Ball. How do you feel?
"I want to thank you for staying and hanging out with me, and what I"m hoping is that you know the words to this song and will sing along with me," she added, to introduce 'Blank Space'… her latest single from '1989'!
Obviously the Jingle Bell Ball crowd, being the polite sorts that the are, obliged with Taylor's request and sang their HEARTS out to the song!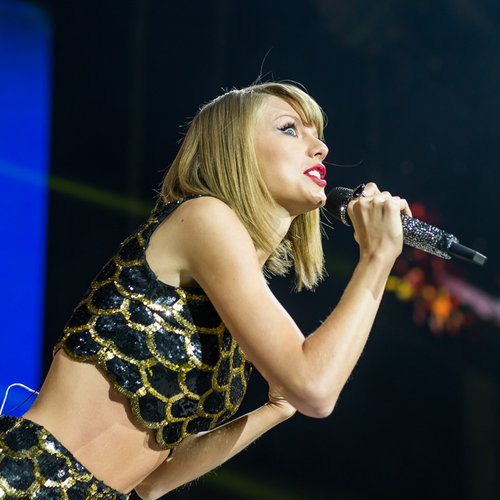 "I was just thinking as I was looking out in this room, I was really lucky to play five nights at the O2 in February," she told the audience next. "It was some of the best memories of my life and my time in London. And here we are again.
"And one of my favourite memories was hearing everyone in the crowd singing trouble, trouble, trouble," Taylor declared, to announce 'I Knew You Were Trouble' as her next song!
Taylor's incredible passion was shown in full on this one, with the US star getting down on her knees at one point and BELTING out that chorus! You go, girl!
Next up Taylor took things back to her VERY early days with a performance of 'Love Story' to slow things down and bring a little romance into them mix.
And then, for the grand finale of the Capital Jingle Bell Ball 2014 with Morrisons, Taylor closed her set and the whole show with 'Shake It Off'.
This was THE moment of the weekend… 16,000 fans doing Taylor's dance and singing along to that amazing chorus. 'Shake It Off', indeed!
The #Swifties in the audience were LOVING Tay Tay's amazing performance:
@taylorswift13 well now i know where frogs go in the winter, they go slay the jingle bell ball ;)

— Taylor Swift Updates (@SimplySFans) December 7, 2014
Amy keeps sending me snapchats of Taylor Swift at jingle bell ball and I could not be more jealous :( why am I not there :(

— Mad (@Maddy_W1) December 7, 2014
Taylor is closing the jingle bell ball I can't keep my cool. @taylorswift13

— Ruby (@dailyreviews005) December 7, 2014
taylor swift sounds amazing at the jingle bell ball

— Saskia (@SaskiaLong) December 7, 2014
@taylorswift13 babe!! You smashed the jingle bell ball and even though you were ill you looked & sounded amazing

— millie | tysm justin (@swiftsontario) December 7, 2014
So proud of Taylor. She killed it and she just makes me so happy. Thank you @taylorswift13

— 1 9 8 9 (@FlawlessSwift89) December 7, 2014
Check out Taylor Swift's FULL setlist from the Capital Jingle Bell Ball 2014 with Morrisons below:
'We Are Never Ever Getting Back Together'
'Blank Space'
'I Knew You Were Trouble'
'Love Story'
'Shake It Off'