WATCH: Selena Gomez' Backing Dancers Literally Couldn't Keep Their Hands Off Her During TV Show
25 January 2016, 12:25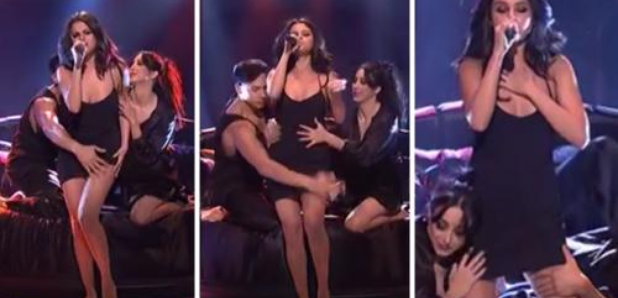 Can't blame them tbh.
Selena Gomez performing 'Hands To Myself' on Saturday Night Live is probably one of the sexiest performances we've ever seen.
Although Gomez said she was nervous about performing on the iconic show in front of millions, she did say that she felt like she was in the best place she could be in order to get up on that stage.

She joined two backing dancers on a gigantic bed and they literally couldn't keep their hands off her.
There was a lot of intense hugging going on.
And we couldn't help noticing how long the male backing dancer kept his hand on her thigh for.
Just in case you missed that...
Straight away people wanted to know who the hell that guy was.
@selenagomez who was the handsome dancer during can't keep my hands to myself.

— Kristina (@kdvt77) January 24, 2016
And suddenly everyone wanted to be a backing dancer.
After watching SNL tonight I think I wanna be a back up dancer for Selena Gomez.

— Mike Snyder (@TheMikeSnyder) January 24, 2016
No but seriously is there a place we can sign-up to take their place?
What's a man gotta do to be the dancer with @selenagomez on SNL

— ⚾Luke Heimlich⚾ (@Heimlich15) January 24, 2016
What d'ya reckon then Selena, fancy having a dance with us?
Ah. Check out her full performance from Saturday Night Live below
You May Also Like