Rihanna's Make Up Artist, Priscilla Ono, Reveals What Hanging With RiRi Is Really Like
5 July 2018, 11:59 | Updated: 5 July 2018, 12:22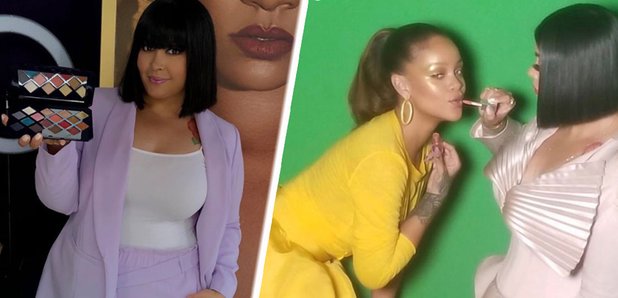 We're off to practise 'Rihanna's Highlighting Technique' right now.
If there's one thing that's pretty much top of our lists, it's to hang out with Rihanna for a day – so of course we had to tap up the woman who gets to paint RiRi's beautiful face every day for all the insider info on what that's like.
Rihanna Gets Real On Instagram With Stretch Marks And People Are Loving It
To celebrate the launch of Rihanna's new collection for Fenty Beauty, the aptly named Moroccan Spice collection, make up artist Priscilla Ono was on hand to spill some expert secrets on how we can channel Riri's flawless look.
Priscilla – who has become a bit of an Instagram celeb in her own right with over 500k followers – revealed that doing Rihanna's make up is like hanging out with a pal.
She explained, "She takes her glam seriously so we have time, it's a few hours but we don't just do glam for two hours straight non-stop, it's a process, it' an experience. We listen to music, we vibe, we get ideas and inspiration, she tries on clothes and we think about what's going to look the best with the clothes and hair.
"It's a make-up artist's dream, really, because of the attention to detail she takes to everything and then we start working and we do it organically – she might take a break and eat or we might sit and chat for a bit in between, it's just a really amazing experience. It's like hanging out with your girlfriends, painting your toes, rollers in your hair! It's like that vibe. When you're with her all of that [fame] goes away and she's just like your girlfriend, it's one of the best feelings, really."
Priscilla also revealed that Rih is pretty awesome at doing her own make up too… no pressure then! She explained, "She's amazing at doing her own make-up, we call her a make-up artist in her own right.
"I think that from working in this industry for so long she's really perfected her face and she knows her face better than anyone so for me as a make-up artist at the beginning it was intimidating, like 'wow she can do her own make-up so well', but she's actually taught me a few things along the way as well.
"We have a technique of highlighting that we call Rihanna's Highlighting Technique where we apply highlight on the eye, we carry it over to the temple and then onto the cheekbone, it creates this wonderful halo effect and I have learned that from her.
"Because she creates these [Fenty Beauty] products she knows how they look best and she's always coming up with new fun ways and that's a great collaboration between her and I as we share ways to use them. It's kind of great that we are learning from each other."
Rihanna's pretty fearless when it comes to her fashion and beauty, and she and Priscilla have come up with a Nando's-style spice chart for the different looks she creates using Fenty's new Moroccan Spice palette.
She revealed, "This palette really embodies her, its obviously inspired by a spice market in Morocco but I use this on her 90% of the time. We describe it as a spice level - are you mild medium or spicy AF?
"She's fearless and she's not afraid to be herself which is what I truly love about her. I think it's her confidence, I think anyone can rock any colour but it's how you wear it."
If in doubt – channel Rihanna… you definitely can't go wrong!
Fenty Beauty's Moroccan Spice collection will be available in Harvey Nichols from tomorrow (Friday 6th July).
Download Our Brand New App For All The Latest RiRi News