Rihanna Unveils Grey Hair Colour After Opting For A New Look While On Tour
18 July 2013, 10:29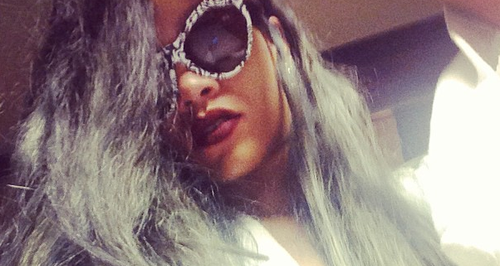 The 'Stay' singer has dyed her hair a drastic new colour which she proclaim is "the new black".
Rihanna showed off a dramatic new look this week after opting to dye her hair an unusual shade of grey.
The 'Where Have You Been' singer, who is well known for her love of changing up her hair colour, unveiled a drastic new look to her fans while taking a break from her 'Diamonds' world tour.
On Wednesday (17th July) Rihanna shared several snaps of her dark grey hair do', proclaiming grey as "the new black in terms of flattering colours, while turning her back on being a blonde.
"Nice colour ice grey ish, call it #Brrr," Rihanna tweeted alongside several snaps of the new look. 'Grey is the new black! Blondies, it's quiet for y'all!"
The 'Stay' singer also had new hair extensions put in this week to make the most of her new hairstyle.
Check out a picture of Rihanna showing off her newly dyed hair below (Credit: Instagram):
Last week saw Rihanna enjoying a break out in the south of France as she and supermodel pal Cara Delevingne enjoyed a private yacht cruise.
Rihanna is currently preparing her autumn/winter River Island collection which goes on sale from 12th September.