One Direction Rehearse To The Sound Of Screaming Fans?
2 April 2013, 09:20
The 'Little Things' stars apparently "manage their vocals" better by practicing with the audio aid for their 'Take Me Home' tour.
One Direction have apparently been rehearsing for their 'Take Me Home' world tour by singing along to the sound of screaming fans.
The 'What Makes You Beautiful' singers are used to thousands of screams greeting them each time they take to the stage and reportedly use the audio to help manage their vocals during practice sessions.
"It helps them manage their vocals," a source revealed to the Daily Mirror. "There's little point rehearsing in an empty arena because it's completely different when the venue is filled with people making noise.
"Adding screaming sounds is the only way to make the sound check realistic."
The soundcheck was apparently heard during the band's show in Cardiff as their current UK jaunt heads around the country.
Last night, the band performed the first of five new shows at London's O2 Arena and will be back at the venue in the capital tonight (2nd April).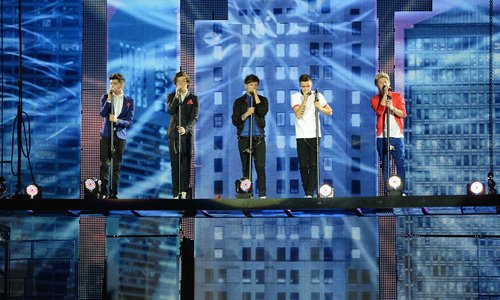 Meanwhile, reports circulated this weekend that Harry Styles was plotting a solo career and had been writing with Ed Sheeran for his own record.
The rumours have since been quashed by the band's sources who revealed the singer has simply been working on One Direction's new album.