One Direction And McBusted On One Song? Sounds Like It's Happening!
16 June 2014, 11:00 | Updated: 16 June 2014, 11:02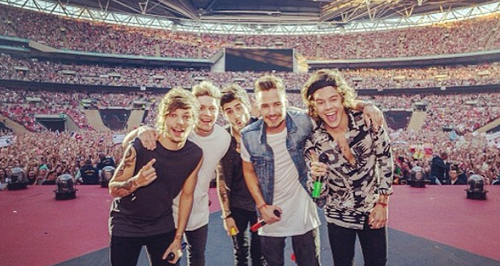 The 'Midnight Memories' stars have brought in their secret weapon for the new album.
If you're already getting excited for One Direction's NEXT album, then this news should take your excitement level up to max!
While all eyes are on the 'Where We Are' world tour, and why shouldn't they be, the boys have quietly been beavering away behind the scenes on their fourth album.
As it slowly sinks in that the 1D boys have ALREADY released three albums (how time flies!), it's emerged that the boy band have tasked supergroup McBusted to help them come up with their next big hit.
The ever-loveable Niall made the revelation this week that 1D and McBusted have been writing and recording together, just before the band headed off to Europe on tour.
"We worked with McFly on the last album but now it's all about McBusted," Niall told The Sun On Sunday. "It's something really cool for me because the first gig I ever went to was Busted and McFly.
"James Bourne is a really talented songwriter so it's exciting to have him as part of the mix," he added.
It seems Niall is a self-confessed McBusted nut as well, as he's been tweeting about having the band support them with a LOT of enthusiasm.
"F**k yeaaaahhhh! Tomorrow is the day!" Niall posted at the weekend. "@McBusted are playing at our show! Aaaggghhh! Soo excited!"
It sounds like One Direction have something very special on the way for their fourth album, so watch this space for more news!