#Directioners Look Away! Looks Like Harry Styles Is Off The Market And Back With His Ex!
25 July 2014, 11:06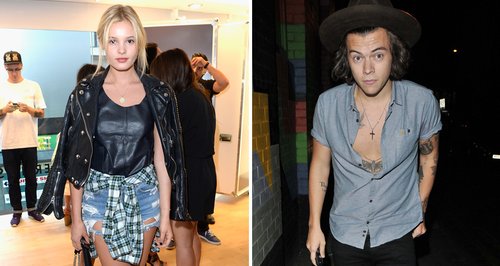 It looks like the long haired lovely from One Direction may be "seeing" his model ex again…
(Picture: Getty, Rex)
Harry Styles is definitely not a man that is short of female attention. No really, a recent survey suggests that one in every 4 people in the world is a Harry girl*.
(*OK, we made that fact up, but he is a VERY eligible single man)
It looks like bad news for #Directioners, however, as it seems Harry is back together with his model ex, Paige Reifler.
The pair reportedly met up at a party at Shoreditch House last week where they rekindled their romance.
Page told the Mirror, "I went to the Warner party at Shoreditch House with a friend and saw him there."
"The next morning I woke up and I was in all of the newspapers and magazines. I wasn't expecting that, it's not like that in New York."
And when asked if she was back with Harry, Page replied, "Yes, I am seeing him." Yep, that's the sound of thousands of hearts simultaneously breaking. Sob.
But it looks like Harry has a bit of competition for Page's attention, she admitted she also had a cheeky flirt with Orlando Bloom!
She told the Mirror, "I went to see him in Romeo and Juliet and sat front row. His manager came and got me after the show and asked if I wanted to go backstage. I couldn't believe it."
"We texted for a bit, it was after he'd split from Miranda Kerr. I didn't hear anything else from him. But yeah, I wish." Luckiest girl ever?!