Miley Cyrus' House Party 'Bangerz' Playlist - Video
23 October 2013, 08:52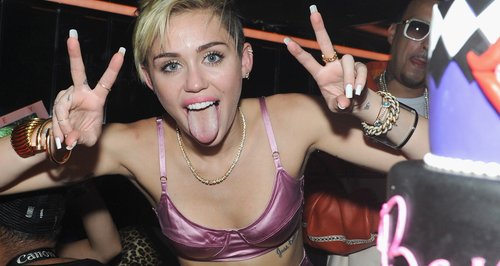 The 'We Can't Stop' singer must be one of the most played stars at house parties across the globe right now... but what would Miley play at her own rave? The fans have spoken and THESE are the 'Bangerz' they would want Ms. Cyrus to play at her very own house party!
Miley Cyrus launched her new album 'Bangerz' this month and very few fans would argue that she didn't deliver in spades.
Between dance floor anthems like 'We Can't Stop' and her Britney Spears team-up 'SMS (Bangerz)' to more emotional tracks like the tear-jerking 'Wrecking Ball', it's clear Miley brings the tunes like no other right now.
Capital asked fans of the US star to pick out some of the best party 'Bangerz' they would want to hear if they got the chance to go to one of Miley's own house parties.
From recent dancefloor smashes like Eminem and Robin Thicke to old-school classics from the likes of MC Hammer and R Kelly, enjoy the playlist below and party like Miley's on the decks at her very own rave! (Warning: Explicit Language):
1.



What better way for Miley to kick off her very own house party rave than with this soon-to-be-an-anthem single from the rap master Eminem!

2.

We've seen Miley's twerking skills... no how about getting the party host up doing the BIGGEST dance craze of the decade. We're sure Ms. Cyrus would put even PSY to shame!
3.

Parties are for having fun with your friends and living for the moment... and you voted Katy's feel-good anthem 'Firework' as a Miley party must-have!
4.

Jason Derulo - 'Talk Dirty'


When things start to get a little heated it's time to crack out Jason's new hit 'Talk Dirty', and let your dance moves do the talking.
5.

Robin Thicke - 'Blurred Lines'




We already know Miley's a big fan of this gentleman (see the VMAs for reference!), so it wouldn't be surprising to see Miley putting this on the sound system and showing off her moves once again.

6.

MC Hammer - 'Can't Touch This'




New hits are great, but you can't beat a good dancefloor classic! And there's no denying that this song is a perfect fit for Miley's new risqué style!

7.

Nicki Minaj - 'Va Va Voom'




You've gotta show some love to your pop peers, right Miley? You guys voted this Nicki Minaj hit as one you'd DEFINITELY want on when Miley brings out the 'Bangerz' at her own party.

8.

Selena Gomez - 'Come & Get It'




Selena and Miley have been good pals for some time now, so we can't imagine her NOT showing a bit of love to Ms. Gomez' recent Billboard smash.

9.

R. Kelly - 'Bump 'N Grind'




Miley may only have been about four when this song originally came out (1994!) but we're betting she's got a soft spot for some good ol' 90s R&B when the mood is right!

10.

Hannah Montana - 'Best Of Both Worlds'




Let's go back to where it all started! We can totally imagine Miley caving to peer pressure at the party and getting the Hannah Montana theme song on to close out the rave!