Miley Cyrus's Seventh Album 'She Is Miley Cyrus' Release Date & Dua Lipa Collaboration
13 October 2020, 12:14 | Updated: 13 October 2020, 13:05
Miley Cyrus has been teasing her seventh album 'She Is Miley Cyrus' since early 2019- and now, she's letting fans know the record is finally coming, 'for real this time'.
Miley Cyrus's delayed seventh album 'She Is Miley Cyrus' is finally on its way as it is reported the record will drop in November, a matter of weeks away, jus after she was spotted recording a video with Dua Lipa in New York.
Music Week, an industry specialist publication wrote the album will be released in November as the 27-year-old confirmed she'd finished it, listened to the whole thing in her car and loves the sound of it.
Miley Cyrus Has $10,000 Worth Of Equipment Stolen From Storage Unit After Malibu House Burnt Down
The confirmed collaboration with 'Physical' singer Dua Lipa made it clear Miley was hard at work on the record and as both have worked closely with Mark Ronson, we can't wait to hear what they have in store.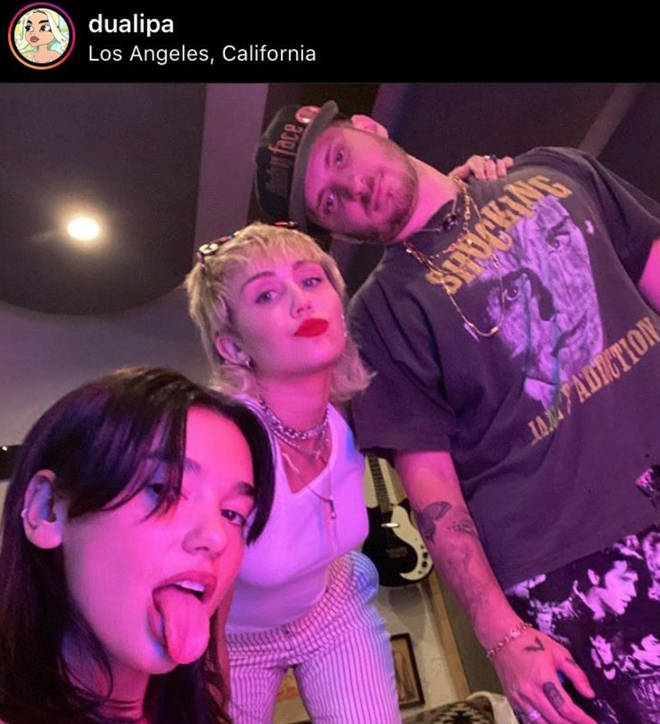 A teaser for upcoming track 'Midnight Sky' has been added to new rival TikTok app, Reels, and it's got a seriously funky feel to it which is giving us 'Future Nostalgia' vibes, so it's little surprise the two disco queens have been hanging out.
Taking to Twitter, she posted a clip of her 2008 single 'Start All Over', letting fans know new music is really on its way this time, writing: "Meet Miley Cyrus..... again. #SheIsComing #ButForRealThisTime."
Fans, suspicious of the star over her seriously long gap between announcing the music and its release let her know they are more than ready for its release.
As well as the six track EP, the 27-year-old released the massive single 'Nothing Breaks Like A Heart' featuring Mark Ronson early in 2019 year and has described the upcoming body of work as 'genre-less' drawing on pop, hiphop, country and psychedelic music whilst talking to Elle.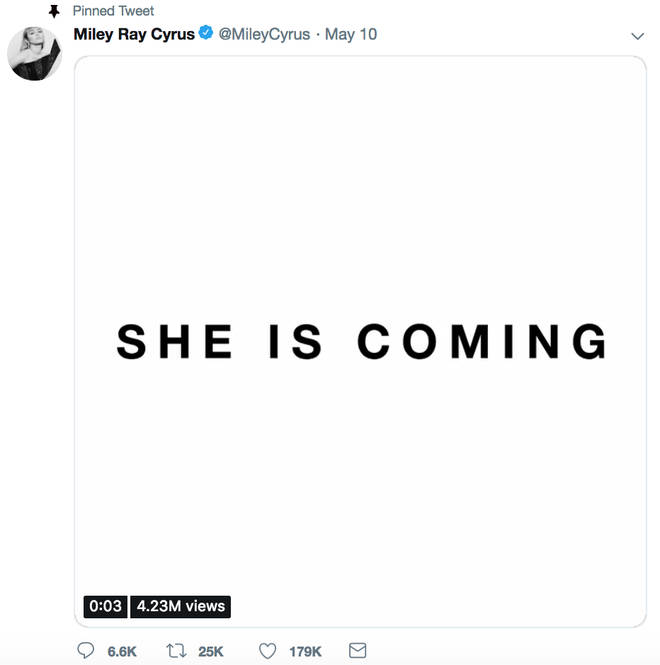 'She Is Miley Cyrus' Release date
The former Hannah Montana actress went quiet for the remainder of 2019 and long into 2020 about the catalogue of music she had ready for release, but in August 2020 started teasing it once more.
Although Miley hasn't given a sold release date, it seems the music will arrive in the next few weeks.
Album name
As soon as she announced she had new music coming, Miley used the hashtag 'She Is Coming', which turned out to be the name of the first EP.
She has since stated the three EP album will be called 'She Is Miley Cyrus', and this is what the Wikipedia entry for the record also states.
What we can expect from 'She Is Miley Cyrus'
In 2019, Miley revealed in an interview with 103.5 KTU that she'd been working with Mark Ronson for a year and he's helped to refine her sound to the perfect pop/country fusion she so loves, which is the genre of the music she's soon to release.
She also told Vanity Fair: "I also wrote a lot of this next record before my f***ing entire house burned down, and my whole f***ing life changed".
She also explained she prefers to remain genre-less, adding: "There's psychedelic elements, there's pop elements, there's more hip-hop-leaning records."
Miley and her ex-husband Liam Hemsworth lost their home in the California wildfires in November 2018, and the 'Nothin' Breaks Like A Heart' references this when she sings the lyrics: "This burning house, there's nothing left."
Since she and Liam have split and the delay has allowed Miley to reflect on this break-up, as well as her split from most recent boyfriend, Cody Simpson.
She's recently spoken about being single and comfortable in her skin- which 'Midnight Sky' also reflects.
Will there be features on 'She Is Miley Cyrus'?
Miley has worked with some huge names for her new record, admitting she worked with Mark Ronson for a whole year on her new sound.
We now know there is definitely a collaboration with Dua Lipa on the record, too.
Her EP included a track with Swae Lee and she worked with long time collaborator Mike WiLL and even RuPaul, so we're pretty certain she will have other artists on the record.
She also released music with Ariana Grande and Lana Del Rey in 2019 for the Charlie's Angel soundtrack.
Will Miley Cyrus go on tour for her new album?
As the record hasn't even dropped yet there hasn't been a tour announcement, and everything in 2020 pretty much ground to a halt due to the global pandemic, but we don't doubt Miley will be touring as soon as she can.
Having played the pyramid stage at Glastonbury 2019 just after the EP's release, we know Miley absolutely loves performing, so watch this space!
Are you excited for MC7? Keep it Capital for all the latest news on her new album as soon as she reveals more!
> Download our free app to keep up to date with all your Miley news!