Justin Bieber On New Movie Believe: "It's About How You Get Back Up"
11 December 2013, 13:09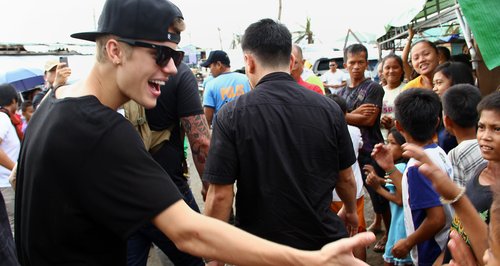 The 'All That Matters star says people need to remember that he's a person not "a robot".
Justin Bieber says people need to realise he's "not perfect" and remember his age, while discussing how his new film Believe will show people the real story of the past year or so.
The 'Heartbreaker' star returned with his second cinematic outing at the end of December, and says the film is all about getting back up when you get knocked down, and should give people an idea of what his life is really like.
"I think that's why a lot of stuff has been confused, I've been on tour so no one really knows what I'm doing out here," Justin revealed to Ryan Seacrest this week, while discussing the new film.
Check out a picture of Justin Bieber showing off his muscles during a break out in Perth, Australia below (Credit: Splash):
"I think 'Never Say Never' showed hope and I think 'Believe' is how you get back up when you fall down, and really that story of what's going on behind the scenes," he explained. "People don't get to see me living as a 19 year-old boy.
"I'm still finding myself and when I have the media attacking me every day it's no [different] than the bullying that happens at school," he continued. "I think this movie really shows who I am as a person. I make mistakes grown up. I'm not perfect, I'm not a robot."
Justin Bieber is set to give new album 'Journals' a limited release from 16th December, featuring all the songs from his #MusicMondays campaign as well as five unheard tracks.
Justin Bieber's Believe movie is out on Christmas Day in cinemas in the US.