Justin Bieber's Apologised To Marilyn Manson And Admits He "Really Likes" Him
20 September 2017, 11:33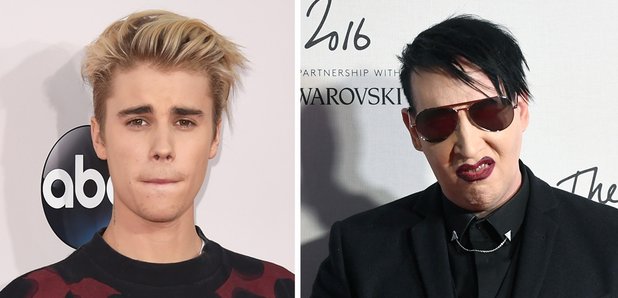 It comes after Marilyn called Justin a "piece of s**t".
As far as celebrity feuds go, they don't get more random than this – Marilyn Manson was beefing Justin Bieber after he used his photos on some of his 2016 tour t-shirts, but the pair have made up after Justin messaged him apologising.
The feud started when Marilyn told Consequence Of Sound how Justin claimed he had made the singer "relevant" again when they met after Justin had worn a top with Marilyn's face on it on stage.
He explained, "He said to me 'I made you relevant again'. He was a real piece of s*** in the way he had the arrogance to say that.
"He was a real touchy-feely guy, too, like, 'Yo yo bro!' and touches you when he's talking. I'm like, 'you need to stand down, you're d*** height on me, okay? Alright? So stand down, son'."
Marilyn also revealed that he had promised Justin he would meet him at a soundcheck but had no intention of turning up. He revealed, "I told him I'd be at his soundcheck at Staples Center to do Beautiful People. He believed that I'd show up, because he was that stupid."
The tops which sparked the controversy featured Marilyn on the front and Bieber's logo on the back and were sold for $195 in Barney's last year – with Marilyn claiming he managed to get all the profits from.
He revealed, "[They] didn't even fight. They were just like, 'Yea, we already know, we did wrong, so here's the money'."
Well, it looks like all the bad blood is finally behind them as Marilyn revealed on the Howard Stern show that Justin had messaged him to apologise. He revealed the text message read, "I thought we had a pretty pleasant interaction. Also, if anything wasn't squared away with the T-shirts, I'm so sorry.
"Anyway, regardless, it kind of stung seeing that I came off as an a**hole or even just was an a**hole, I'm sorry? Honestly, I totally thought we hit it off. Again, my bad. If I was an a**hole, that wasn't my intention. Just want you to know that. I don't really care about the media. I just wanted to make sure you and I were good because I like you."
Marilyn responded, "We are cool. People just made that shirt stuff into a fake feud. Let's turn it upside down and f**k the press and do something together. It will be the best. And don't apologise. You weren't an a**hole. They asked if you were and I sort of agreed. I wasn't out to get you. If not, I'll try to avoid more questions today on Stern."
Well, we wouldn't want to get into a fight with Marilyn Manson, after all…