Justin Bieber "Getting Better" After Collapsing On Stage During London O2 Arena Show
8 March 2013, 08:00 | Updated: 8 March 2013, 08:06
The 'As Long As You Love Me' star was treated for "breathing difficulties" and tweets a picture from his hospital bed.
Justin Bieber has reassured fans that he is "getting better" and attempting to figure out what happened after he collapsed on stage in London last night (7th March).
The 'Boyfriend' star was playing the third show of his four-night residency at the O2 Arena when the incident occurred.
His manager Scooter Braun came out to address the thousands in the audience as Justin was being treated backstage alongside Will Smith's son Jaden.
"As you guys know, we've had a very interesting week in London," he told the crowd.
Scooter also goes on to reveal that Justin told him he wants to continue the show despite the advice of the medical team on site.
"He fainted and took a 20-minute reprieve and was given oxygen," a spokesperson for the teen revealed.
Taking to his Twitter account, Justin told his 35 million followers that he was OK and praised his fans for getting him through the gig.
"getting better. thanks for everyone pulling me thru tonight. best fans in the world. figuring out what happened. thanks for the love," he tweeted.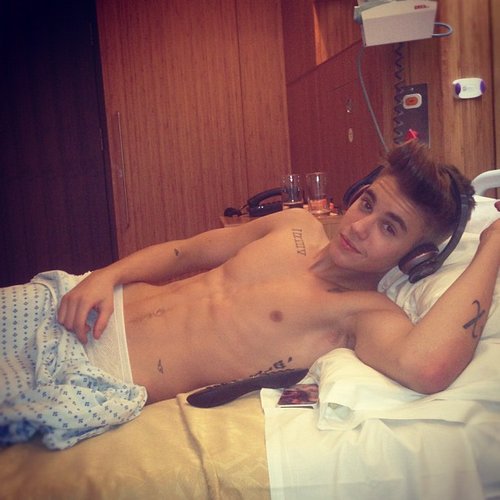 He also posted a picture from his hospital bed and said he was listening to Janice Joplin to help himself recuperate.
Watch Scooter Braun speaking to the crowd at London's O2 Arena following Justin's collapse in London below:
It's been a tough week for the Canadian star who faced criticism for arriving on stage two hours late for his Monday night (4th March) show and has also been seen around the capital sporting a gas mask.
Meanwhile, the 'One Time' singer is expected to conclude the UK leg of his 'Believe' tour tonight before heading around Europe.