Justin Bieber Has Just Rewritten History By Achieving 8 Amazing Guinness World Records
31 August 2016, 15:35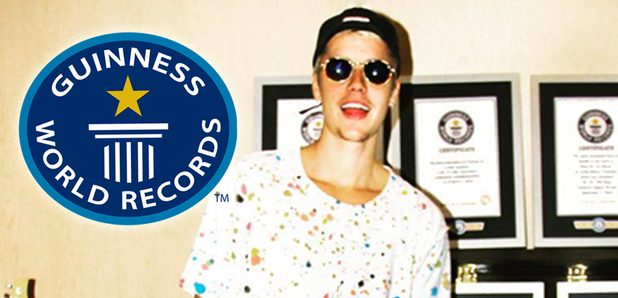 How is anyone going to beat these?
We all know that Justin Bieber is one of the biggest music stars on the planet.
But now he's added to his record sales and YouTube views by achieving 8 official world records.
The latest edition of the Guinness World Records book is set to launch on 8th September, but we've got out hands on all the records that Justin has managed to break...
Most streamed track on Spotify in one week
'What Do You Mean?' relaunched Justin to a new audience and also grabbed the ears of his already huge and loyal fanbase. In one week, the song was streamed 30,723,708 times on Spotify, making it the most streams for a single track in one week.
Most streamed album on Spotify in one week
Having achieved so many plays on 'What Do You Mean?', Justin went on to release his fourth album 'Purpose', which included even more smash hit singles. The album was streamed 205 million times worldwide on Spotify in one week and smashing the record in the process.
First act to occupy all top three positions simultaneously on UK singles chart
We love Bieber over here in the UK, that's no secret. In fact, we love him so much that earlier this year he became the first ever act to hold the top three positions on the UK singles chart with 'Love Yourself' (No.1), 'Sorry' (No.2) and 'What Do You Mean?' (No.3) dominating the chart on 14th January 2016.
Most simultaneous new entries in the Hot 100 by a solo artist
As of 5th December 2015, Justin's 'Purpose' album had begun to take over the world and he actually managed to have 13 new songs on the Hot 100 at one time. That's what you call a chart takeover!
Most simultaneous tracks on the US singles chart
In the same month, Justin still had some of his older tracks riding high in the US charts, therefore he managed to break yet another record. In total during December 2015, the Canadian star had 17 tracks on the Billboard 100 at the same time. We feel sorry for anyone else releasing music that month!
Most followers on twitter (male)
In case you hadn't noticed, people love Justin on Twitter. When the final check took place, Justin had amassed a total of 85,235,563 followers which make him the most followed male on the social media platform. Since that figure was recorded, he's added an extra 2 million followers - just don't talk about Instagram!
Most subscribers on YouTube for a musician (male)
We know that YouTube is the biggest player in the online video world. So when you've got loads of subscribers eager to see your next video, you must be doing something right! Well Justin now has 20,711,202 subscribers, making him the most subscribed male artist on YouTube.
Most viewed music channel on YouTube (individual)
This record was formerly held by Rihanna with 6,884,884,873 views. With his recent popularity surge, Justin has now managed to gain 10,478,651,389 views across his 120 videos, making him by far the most viewed music channel on YouTube. We were about 46,327,184 of those!
You may also like...