Girl Power! Ellie Goulding Has Katy Perry And Taylor Swift On Speed Dial For Advice!
14 July 2014, 14:47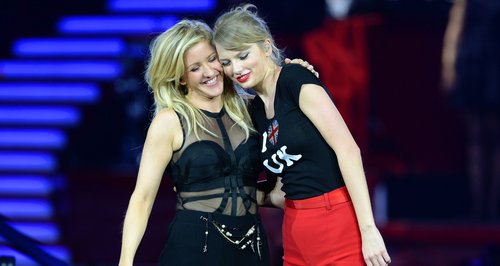 It's a pretty good life being Ellie Goulding – not only is she a super hot pop star, but she's got Taylor Swift and Katy Perry on speed dial whenever she needs sisterly advice. Nope, we're not jel at all….
Imagine being able to call on Katy Perry when you're having a relationship crisis? Drop Taylor Swift a quick text when you need outfit advice? You'd pretty much be Ellie Goulding then.
Ellie Goulding has struck up a friendship with T-Swizzle and K-Pez through working in the industry, and she loves surrounding herself with strong women in her team. Ellie told Glamour, "We're friends because they understand the predicaments. They see what is and isn't real."
"I'm not anywhere near their level of fame, but if I say, 'Oh God Taylor, this happened', she'll be like, 'Girl, that's nothing.' Suck it up, kind of thing." Taylor sounds like a girl after our own hearts!
As well as her A-list BFFs, Ellie likes to surround herself with other strong women in her team as opposed to men. She said, "I have strong female characters all around me, really cool women. My tour manager is a woman, my manager is a woman. I want to be surrounded by powerful women, not men.''
And Ellie sure is a powerful woman herself – she even broke up a fight during her recent gig at the Eden Project. Can we be your friend, Ellie?!