Ellie Goulding Glad People Aren't Surprised By Her Outfits Now: "I Can't Be Shy Anymore"
18 November 2013, 13:04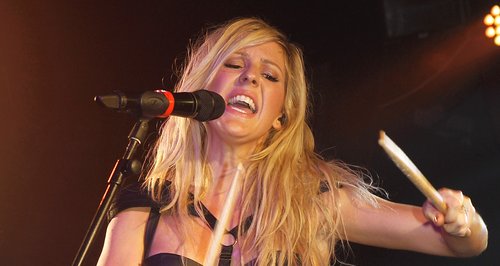 The 'Burn' singer says she doesn't feel like she needs to cover up for her performances anymore.
Ellie Goulding says she is glad people aren't surprised anymore when she wears revealing outfits on stage and feels more comfortable in her skin.
The 'Anything Could Happen' singer, who performed live at G-A-Y London over the weekend, says she doesn't feel she can be "shy" anymore after touring alongside Katy Perry earlier this year.
"I don't feel I have to cover up," Katy revealed to The Sun on Sunday this past weekend. "I can wear a half-naked revealing dress now and people aren't surprised anymore.
"I don't think I have to have the perfect figure or the perfect face and people know that I know that," she explained. "But I can't really be shy anymore, and everyone in America is naturally confident, it's a whole different world over there."
View a picture of Ellie Goulding performing on stage at G-A-Y London over the weekend below:
The UK singer-songwriter was confirmed earlier this month for a performance on Saturday 7th December at the Capital FM Jingle Bell Ball 2013.
Ellie Goulding hit number one on the Vodafone Big Top 40 this past Sunday with her latest song 'How Will I Love You'.