Ed Sheeran Reveals Rudimental And The Game Collaborations As New Album Work Continues
14 August 2013, 13:17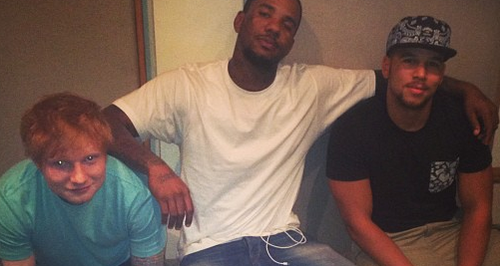 The 'A Team' star is working hard on his new record and has teased some potential new team-ups.
Ed Sheeran has revealed he has been recording collaborations with both Rudimental and The Game this week.
The 'Lego House' singer has been working hard on new music for the past few months, while out travelling across North America on Taylor Swift's 'Red' tour.
Ed has now revealed he has been in the recording studio with both 'Waiting All Night' quartet Rudimental as well as 'Hate It Or Love It' rapper The Game.
"Finished the @RudimentalUK session for today, back in tomorrow," Ed tweeted this week. "Now off to make music with one of my favourite artists.
"Just finished up with @thegame, epic," he explained. "Another great day making music. This time me, the game and rudimental. Nuts."
The 'Give Me Love' singer did not reveal whether the collaborations were between all three artists or for separate tracks.
Check out a picture of Ed Sheeran on stage at the Teen Choice Awards 2013 below (Credit: Getty):
Earlier this month the UK singer-songwriter admitted he would be open to the idea of recording a country album at some point in the future.
Ed Sheeran has suggested a potential release month of February 2014 for his ongoing second studio album.