Ed Sheeran's Recorded Some NEW Songs With Taylor Swift! #AMAZING
1 October 2014, 10:35 | Updated: 1 October 2014, 11:36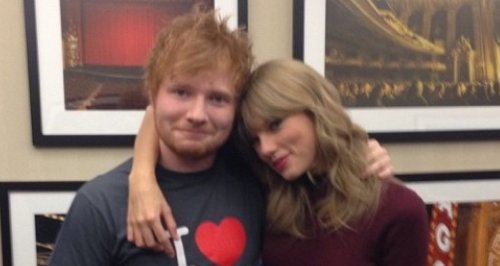 Ed Sheeran reveals that he once dedicated a song to David Cameron... that he loves a bit of Britney!
Ed Sheeran is not your average recording artist – the boy has admitted that he likes to listen to a bit of Britney Spears while he does his cooking!
Ed told fans at the Amazon Front Row event that he has been recording with Taylor Swift again, but that he isn't sure what will happen to the song – and he's been setting her up with his mates!
He revealed, "I've recorded some more songs with Taylor Swift, but it's just a case of finding out where to put them as I don't really put collaborations on my albums. She did her last record, 1989, really quickly, in about a month, I think, so there was no time to put any on there."
"I have tried to set Taylor up with a few of my friends. I have a lot of good looking friends."
Ed also revealed that he once had to awkwardly dedicate his song, 'The A Team' to David Cameron after he turned up to an intimate gig Ed was playing.
He shared, "I met David Cameron the other day, really randomly. It wasn't in that situation where you're in a meet and greet at 10 Downing Street, I was playing a gig and he came down and he was singing. It was fun, but they stopped the gig."
"I was playing this gig at some guy's house and was a very, very intimate environment, and they stopped the gig and I only had one song left. He was like, 'I'm so happy that you came here Ed. Obviously David Cameron is here, would you dedicate a song to him?' And I was like, 'Oh... I've only got 'The A Team' left to sing'. And so I dedicated 'The A Team' to David Cameron. That was interesting."

And when he isn't performing for Prime Ministers, Ed also confessed that his guilty pleasure is Britney Spears and he wouldn't mind writing for her.
He told the crowd, "Yeah. I mean she's had consistent hits for a while, but I wouldn't write 'Work B***h'. I'd go and do something a bit more like 'Everytime'. I'm a Britney fan! I've actually got the Greatest Hits - I cook to it."
So there's something you never knew about Mr Sheeran!
You May Also Like…



PLUS... Relive Ed Sheeran's INCREDIBLE live Capital session below!
'She Looks So Perfect' (5SOS Cover)
'Sing'
'I'm A Mess'
'Don't'
'Photograph'