This Unheard Britney Spears Song Just Leaked Online & The Fan Reactions Are Incredible
11 August 2016, 13:39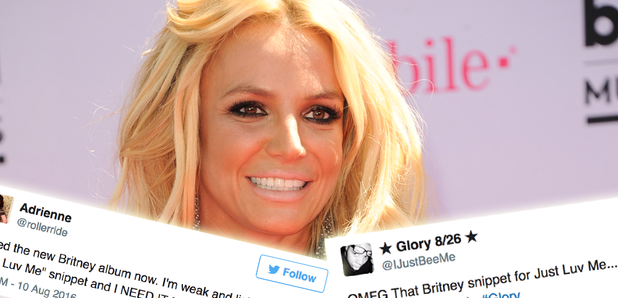 There is some serious love for this leaked track online right now...
Her brand new album is due out at the end of the month but that hasn't stopped parts of it from leaking online.
Whilst fans loved the first two official tracks from her album, 'Make Me' with G Eazy and 'Private Show', it's a leaked song that has been getting all the love from fans.
Called 'Just Luv Me', a short snippet of the track has been leaked online and it reveals a more laid-back R&B side to Britney than we've previously seen from her before.
"Just Luv Me" - Britney Spears pic.twitter.com/69XC8E2G5f

— #WeLoveYouBritney (@godneyspears4L) August 10, 2016
The leak came just before Brit shared her latest official single 'Clumsy' and it stole all the love from fans...
I'm finding it so hard to believe Britney is singing in just luv me, my good sis sounds so good pic.twitter.com/nFRyhldKuh

— ㅤ (@privshow) August 10, 2016
Who tf produced Just Luv Me? Imma need a whole Britney album produced by them

— #Glory (@Kingnacio) August 10, 2016
I need the new Britney album now. I'm weak and listened to the "Just Luv Me" snippet and I NEED IT NOW. pic.twitter.com/bnglcE98MY

— Adrienne (@rollerride) August 10, 2016
OMFG That Britney snippet for Just Luv Me... omfg I'm bout to pass out. #StanMode #Glory pic.twitter.com/Sd4mAbKyyI

— Glory 8/26 (@IJustBeeMe) August 10, 2016
Just Luv Me brought back Britney of yesteryear... LIKE THAT pic.twitter.com/e8ysr444qL

— Britneyfreakshow (@britneyfrkshow) August 10, 2016
Just Luv Me is something I never knew I wanted from Britney

— Nate (@workbxxch) August 10, 2016
I swear if Just Luv Me was the lead single https://t.co/4IQWisgOZl

— BRITNEY'S BITCH (@britneyarmy123) August 10, 2016
So what are your thoughts about this leaked tune? Are you keeping your fingers crossed that it appears on Britney's album or are you enjoying the official singles more?
You may also like...